Save the Children's literacy programs in several African countries will get a boost from a new limited-edition T-shirt campaign sponsored by The 1Love Foundation, created by the Marley family to realize Bob Marley's hope for a united and peaceful world, and Made for Good, a brand that raises money for non-profits through apparel sales.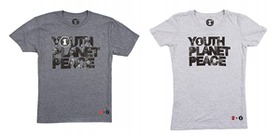 The Save the Children T-shirt campaign is part of a new initiative launched this month by 1Love Foundation and Made for Good to offer limited-edition monthly T-shirt campaigns that benefit 1Love charitable partners, including Save the Children. Each T-shirt design is creatively inspired by Bob Marley, his music, lyrics and life.
The inaugural Save the Children design is synonymous with 1Love's core mission,"Youth. Planet. Peace," and features timeless imagery of Bob Marley. The T-shirt, available in men's and women's sizes, sells for $25, with $10 going to the 1Love Foundation in support of the Save the Children's Literacy Boost program. The T-shirt is available for purchase online at madeforgood.com/gotw from Nov. 13 to Nov. 23.
"1Love strives to find creative and compelling ways to work with our charity partners. We are excited to launch this program with Save the Children to provide the much needed books to educate our children," said Cedella Marley of the 1Love Foundation.
Net proceeds from the premier T-shirt collection will support Save the Children's Literacy Boost program. Literacy Boost is an innovative, educational response to an alarming global trend — the rise in the numbers of children finishing primary school who are unable to read well enough to learn. Literacy Boost is underway across Africa, including in Burundi, Ethiopia, Kenya, Malawi, Mali, Mozambique, South Africa, Uganda and Zimbabwe.
"Save the Children is delighted to tee off this new charitable partnership with 1Love and Made for Good. We hope this campaign motivates everyone to snatch up a T-shirt, knowing that part of the purchase will help kick-start a better quality education for African children," said Carolyn Miles, Save the Children's president and CEO.
For every $10,000 raised, Save the Children and 1Love can do one of the following:
Create 25 new book banks — or small mobile libraries in communities or schools — with 100 to 250 books;
Restock 40 book banks with new reading materials;
Offer nine teacher training sessions, and provide teaching and learning materials for 60 teachers; or
Train 100 reading volunteers in communities, and supply them with books and other reading materials.
"We are extremely honored to have 1Love be a part of the Made For Good family, and the Limited Edition T-Shirt campaigns is really the first major step for us as partners to bring about change and support for those in need. I think we really have something special going, and for Bob Marley fans, will offer up some very inspirational t-shirts," said Mark Bubb of Made for Good.