Last week at the 2012 Women of Worth awards ceremony, L'Oreal Paris and Hearst Magazines recognized the work and efforts of 10 extraordinary women for their dedication to making a beautiful difference in the world.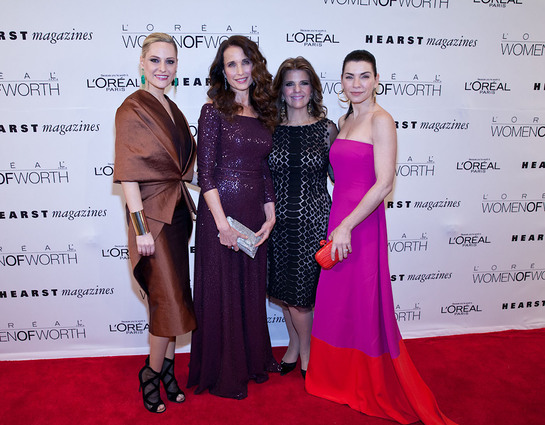 The event featured an awards presentation hosted by Karen Fondu, president of L'Oreal Paris, and Michael Clinton, president, marketing and publishing director of Hearst Magazines. Special guest presenters included L'Oreal Paris spokespeople Andie MacDowell, Julianna Margulies and Aimee Mullins, as well as inspiring women in the entertainment, publishing, media and digital industries, including Arianna Huffington, Allison Williams, Trisha Yearwood, Jessica Seinfeld and Randi Zuckerberg, among others. Former Women of Worth honorees were also invited to ring in the seventh annual awards.
"Every year, these incredible women raise the bar on what it means to make a beautiful difference in our communities, and this year is no exception. L'Oreal Paris' 2012 Women of Worth honorees exemplify our brand's philosophy – 'Because You're Worth It'- and inspire those around them to be a force of positive change in our world," said L'Oreal Paris President Karen Fondu. "We are proud to recognize this year's honorees and extend a special congratulations to our National Honoree, Risa Vetri Ferman of Mission Kids."
NATIONAL HONOREE: RISA VETRI FERMAN

Chosen by a group of elite judges, each of the 10 honorees received $10,000 for her charitable cause. During the month of November, consumers had the opportunity to visit womenofworth.com and cast their vote for the honoree and charity that inspired them the most. After almost 70,000 votes, Risa Vetri Ferman, co-founder of Mission Kids Child Advocacy Center, a non-profit that gives child abuse victims a voice and helps them heal, was awarded the title of National Honoree and an additional $25,000 for her charitable organization.
"I am so honored that Mission Kids was selected from all of these amazing organizations. I hope this recognition will showcase that child abuse victims still need our help, and we can all work together to keep our children safe," said L'Oreal Paris Women of Worth 2012 National Honoree Risa Vetri Ferman.
HONOREES

Each of the 2012 honorees have received $10,000 for her charitable cause. This year's amazing women represent a wide range of social causes and commitments across the country. The women behind these organizations are living proof that one person can make a difference:
• Amy Paterson – Portland, OR; Co-founder of My Little Waiting Room, an organization that promotes the health and well-being of families by bringing drop-in child care to the hospital so that children can thrive as families heal.
• Catherine Meek – Los Angeles, CA; Executive Director of School on Wheels, an organization that enhances the educational opportunities for homeless children by pairing homeless students one-on-one with volunteer tutors.
• Dr. Ida Johnson – Davenport, IA; Founder of United Neighbors, Inc., an organization that helps others help themselves while building self-worth, and includes youth, education, housing, financial literacy and multicultural healthcare programs.
• Kate Bialo – Larchmont, NY; Founder and Executive Director of Furniture Sharehouse, an organization that empowers underprivileged families by providing basic furniture to turn their house into a home.
• Lorraine Kerwood – Eugene, OR; Founder of NextStep, an organization that focuses on people, the planet and education by providing community members with disabilities the tools they need to succeed academically and in the workplace.
• Olivia Stinson – Charlotte, NC; Founder of Pen Pals Book Club and Support Group, an organization that strives to promote literacy and provide cultural and social activities for the children of incarcerated parents.
• Risa Vetri Ferman – Abington, PA; Co-founder of Mission Kids Child Advocacy Center, a non-profit that gives child abuse victims a voice and helps them heal.
• Sandy Puc' – Littleton, CO; Co-founder of Now I Lay Me Down To Sleep, an organization that provides the gift of remembrance photography for parents suffering the loss of a baby.
• Sarah Cronk – Bettendorf, IA; Founder of The Sparkle Effect, a student-run program that empowers teens nationwide to include students with disabilities in school-based cheerleading and dance programs.
• Sue Runsvold – San Jose, CA; Founder of TurningWheels for Kids, an organization that provides a brand new bike to every low-income, at-risk child who needs or wants one.

The Women of Worth initiative, now in its seventh year, is inspired by L'Oreal Paris' iconic brand philosophy, "Because You're Worth It." Since its inception, the program has recognized 70 women for their outstanding devotion to their causes, with honorees embodying the spirit of the L'Oreal Paris brand through their commitment to their communities, their selflessness and their drive to make a difference in the world. For more information about the Women of Worth program and its 2012 honorees, please visit womenofworth.com.
Source: PR Newswire