The Duchess of Cornwall received a canine guard of honour as she visited Battersea Dogs & Cats Home this week with her two Jack Russell terriers.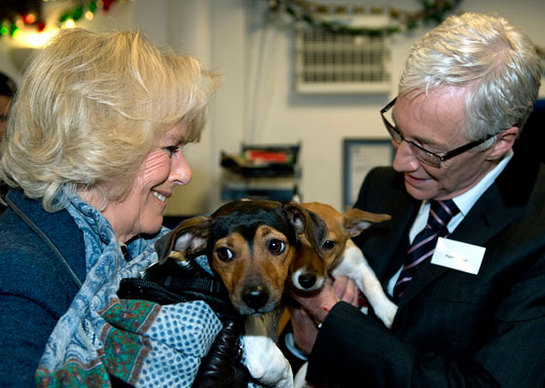 A dozen homeless dogs stood in two lines wearing blue jackets as The Duchess fed them treats, petted them and chatted to volunteers at the home, in south west London.
The Duchess has recently adopted the two terriers from the charity and it was the first time she had visited Battersea with her new companions in tow.
Her Royal Highness got Beth in August 2011 when she was a three-month-old unwanted puppy and later adopted Bluebell in September 2012 after she was found wandering alone in a London park with a painful skin condition.
The pair appeared in fine form when they emerged with The Duchess from the royal car, straining at their leads to explore the smells of the home and barking at the cameras as they were photographed.
Staff who treated the two dogs commented on how well they were looking and said they were delighted that Bluebell's fur had grown back.
"She's the nicest dog," The Duchess said of Bluebell. "Both of them are. They are very happy and they love it… These two, I must say, have turned out to be stars."
The Duchess visited the home in October 2010 to open the charity's new London cattery and to mark Battersea's 150th anniversary. During Wednesday's hour-long visit The Duchess met Paul O'Grady, the television presenter and ambassador at Battersea who himself adopted a Jack Russell from the home in the summer.
He told The Duchess: "I think mine's got a bit of Rottweiler in her. She is tough." The Duchess replied that her dogs are "very tough too".
Before leaving the Battersea home, The Duchess was given two goodie bags for her dogs, and in turn left the home a bag of Highgrove products donated by The Prince of Wales' Charitable Foundation.
Source: PrinceOfWales.gov.uk