DKMS Delete Blood Cancer, the world's largest bone marrow donor center, joined luxury lifestyle brand Jimmy Choo and pop sensation Karmin this week to Celebrate the Gift of Life, an intimate gathering inspired by the Jimmy Choo Cruise 2013 Collection.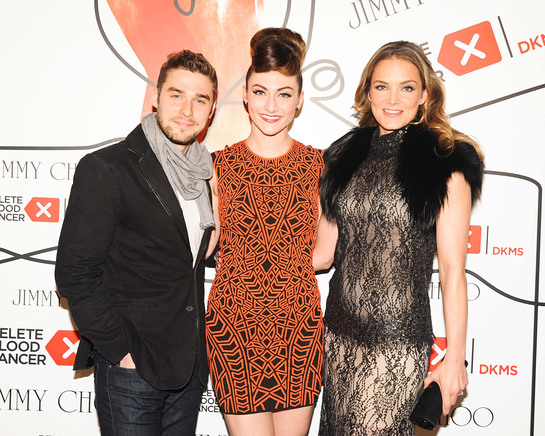 The private affair, held at the New Museum, was hosted by DKMS Delete Blood Cancer co-founder Katharina Harf, and her husband, Rebel One Management owner Marc Jordan, True Blood actress Anastasia Ganias and featured entertainment from DJ Mia Moretti.
Also in attendance at Celebrate the Gift of Life were: Dr. Lisa Airan, Kelly Bensimon, Melissa Bent, Cory Bond, Lady Liliana Cavendish, Ann Caruso, Poppy Delevigne, Karen Duffy, Kate Foley, Kenza Fourati, Nicole Galicia, Elizabeth Gilpin, Genevieve Jones, RJ King, Tali Lennox, Diego Miguel, Mia Moretti, Harley Viera Newton, Lola Rykiel, and Cleo Wade.
A percentage of the proceeds of sales through December 16th at select Jimmy Choo locations will benefit DKMS Delete Blood Cancer's mission to register lifesaving bone marrow donors for patients in need.
"We deeply thank Jimmy Choo for joining us in the fight against blood cancer and for bringing awareness to the need for bone marrow donors. All it takes is a swab of the cheek to register and help save a life," said Katharina Harf, who co-founded DKMS Delete Blood Cancer in memory of her mother who died from leukemia.
In the United States, blood cancer is the second leading cause of all cancer deaths and kills more children than any other disease. Even though many patients might be saved by a bone marrow transplant, six out of 10 patients will never receive one. DKMS has made it its goal to turn the tide, and save more lives.
"Jimmy Choo is thrilled to partner with Katharina Harf and DKMS Delete Blood Cancer on this spectacular event," said Brian Henke, President, Jimmy Choo USA. "Katharina's commitment and dedication to the organization and the work it does is both inspiring and truly an honor to be a part of." Jimmy Choo encompasses a complete luxury lifestyle brand. Part of Labelux GmbH, a privately held luxury goods group, Jimmy Choo has more than 150 stores in 32 countries and is present in the most prestigious department and specialty stores worldwide. The Cruise 2013 Collection, which inspired the events of the evening, was overseen by Jimmy Choo Creative Directors Sandra Choi and Simon Holloway.
Pop sensation Karmin, who performed five of their hit songs at the gathering, were moved by the spirit of charity throughout the evening.
"It's such a treat when we're given an opportunity to make music for a good cause," commented Amy Heidemann and Nick Noonan of Karmin. "We're honored to be a part of DKMS Delete Blood Cancer's efforts to register bone marrow donors and save lives."
For more information on Delete Blood Cancer please visit the following link: www.deletebloodcancer.org.
Source: PR Newswire