Boston-based AdMeTech Foundation has announced jointly with Arthur Murray International that celebrities from ABC's Dancing with the Stars, Maria Menounos (host, EXTRA), Mary Murphy (judge, Fox's So You Think You Can Dance) and actress Florence Henderson will join US Senator John Kerry, Massachusetts Governor Deval Patrick, key legislators and philanthropists in supporting AdMeTech Foundation's Dance for a Cure of Prostate Cancer campaign.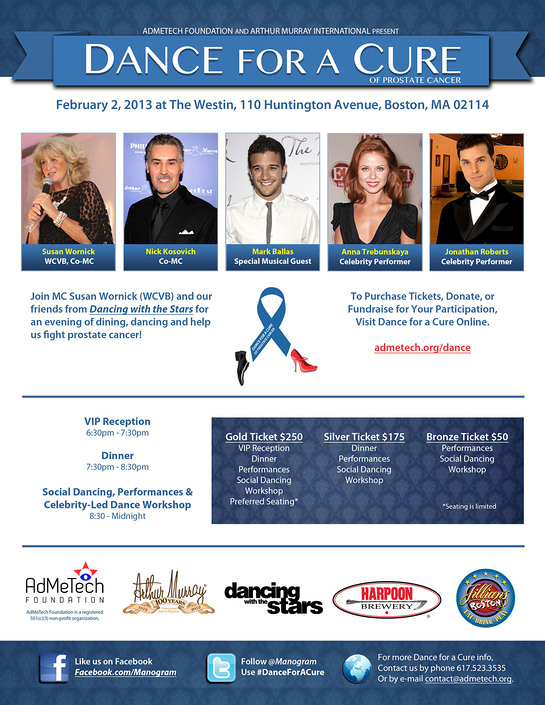 Dance for a Cure's next awareness and fundraising event is scheduled for February 2, 2013 in Boston, MA and will be hosted by Dancing with the Stars choreographer Nick Kosovich and WCVB/ABC anchor Susan Wornick. This black-tie gala will also feature performances by Mark Ballas, Anna Trebunskaya and Jonathan Roberts of Dancing with the Stars as well as an auction for VIP tickets to the 2013 Dancing with the Stars Grand Finale and a football signed by New England Patriot QB Tom Brady (courtesy of Patriots Charitable Foundation) among other unique items.
Dance for a Cure of Prostate Cancer is presented by AdMeTech Foundation in partnership with Arthur Murray International and benefits "The Manogram Project" – research and education programs dedicated to advance early detection of prostate cancer.
To purchase tickets or contribute, visit www.admetech.org/dance.
WHEN & WHERE: Saturday, February 2, 2013 from 6:30 p.m. to Midnight
The Westin Hotel, 110 Huntington Avenue, Copley Place, Boston, MA 02116
6:30 p.m.: VIP Reception
7:30 p.m.: Dinner
8:30 p.m. to 12:00 a.m.: Performances, Social Dancing, Celebrity Dance Workshops
Prostate cancer strikes 1 in 6 American men and has become more common than even breast cancer, which affects 1 in 8 women. However, public awareness and research funding are lagging behind and men do not currently have reliable diagnostic tools similar to life-saving mammograms. The impact is staggering: an American man dies every 16 minutes. The goal of "The Manogram Project" is to advance early detection of prostate cancer which is critical for saving lives.
Source: PR Newswire