Red Bull Racing's Mark Webber has generously donated his 2012 Grand Prix helmet worn in Japan, India and Brazil, to raise funds for the Alzheimer's Society!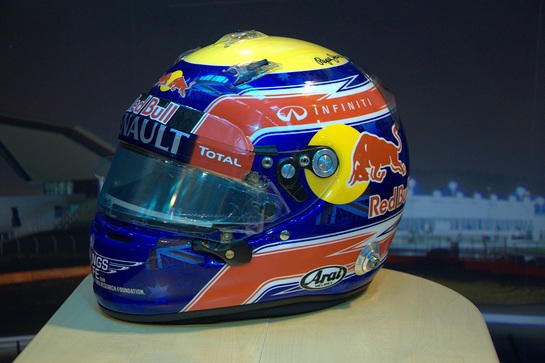 Sellebrity.org.uk is absolutely delighted to auction this one-off collector's item. Helmets are among the most expensive racing and Formula 1 memorabilia, and represent the pinnacle of the race collecting hobby. They are one of the most important safety devices in Formula One racing. This original helmet was worn by Mark at in the 2012 Japanese, Brazil and India Grand Prix's.
Mark Webber made his Formula One debut in 2002. His first F1 win was with Red Bull Racing at the 2009 German Grand Prix which followed second places at the 2009 Chinese, Turkish and British Grand Prix. By the end of 2009, Webber had scored eight podiums, including another victory in Brazil. His eight podiums in 2009 compares to only two podiums in the first seven years of his career, and he added ten more podiums in 2010. Webber finished the 2010 season in third place, losing out to teammate Sebastian Vettel in the final race of the season. Webber added another race victory in the 2011 Brazilian Grand Prix, as he once again finished third behind champion Vettel and runner-up Jenson Button. Webber partnered Vettel again in the 2012 season, outperforming him in the early season and looked to be a major title contender, finally finishing the season in 6th place.
The auction ends on February 3, and can be accessed here.