Guitar Center, the world's largest musical instrument retailer, in partnership with Eric Clapton, proudly announces the launch of the Eric Clapton Crossroads Guitar Collection.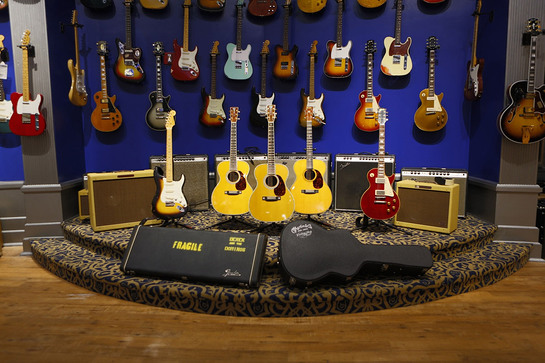 The limited-edition collection will feature five Eric Clapton tribute, replica and signature guitars to be sold in North America exclusively at Guitar Center locations and online at GuitarCenter.com beginning March 21, 2013.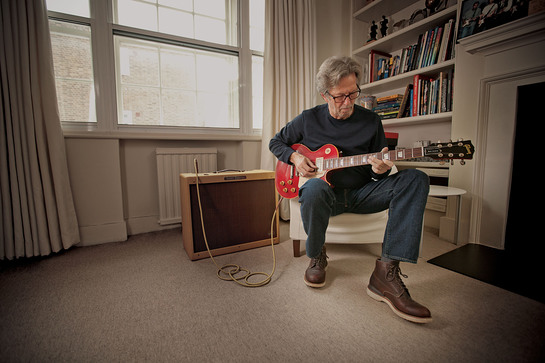 All guitars in the one-of-a-kind collection were developed in partnership with Eric Clapton, Guitar Center, Fender, Gibson and Martin Guitar , drawing inspiration from the guitars used by Clapton at pivotal points throughout his iconic career. The collection includes a replica Fender Custom Shop Eric Clapton "Brownie" Tribute Stratocaster guitar, Gibson Harrison-Clapton "Lucy" Les Paul , and Eric Clapton Signature Martin 000-28 and 000-45 models, as well as Eric Clapton "Crossroads" guitar straps from Ernie Ball.
Giving Back Through the Eric Clapton Crossroads Collection

Not only is the construction of and history behind the Eric Clapton Crossroads Collection of guitars notable, but a significant portion of the proceeds from the sale of each of the guitars in the collection will be donated to benefit Eric Clapton's Crossroads Centre.
The Crossroads Centre, Antigua was created to provide treatment and education to chemically dependent persons. Treatment is provided through residential care, family and aftercare programs. The pathway to recovery is founded on the movement toward a change in lifestyle.
"It's been my experience that the proper guitars, like those in this Collection, are just made for playing – the motive behind the making of the guitar is 100% right," said Eric Clapton. "They are beautiful guitars; from the inlays to the rosewood they are unique from one another. One would be inclined to take care of and be in awe of them."
Creating the Eric Clapton Crossroads Collection
The Eric Clapton Crossroads Collection is the result of a unique and significant history between the music retailer and famed guitarist. Guitar Center has co-sponsored each of Eric Clapton's four Crossroads Guitar Festivals and been a strong supporter of the Crossroads Centre charity, having purchased several of Eric's most famous guitars including his "BLACKIE" Stratocaster and the CREAM Gibson 335 at the Crossroads Guitar Auction in 2004. Clapton has also graced the cover of the Guitar Center Buyers Guide. Coming together to develop this special collection was a natural continuation of the music retailer and music icon's longstanding relationship. Well known amongst his peers for being a great musical collaborator, Clapton invited Guitar Center to create a collection of guitars from the most prestigious manufacturers. The result of this incredible collaboration is two tribute replica guitars with rich ties to Clapton's career as well as three new Eric Clapton signature guitars that will launch in conjunction with Clapton's upcoming U.S. tour and Crossroads Guitar Festival.
"We have always admired Eric Clapton as one of the all-time great guitarists, singers and songwriters and for his extraordinary influence on musicians around the world for over 50 years," said Michael Doyle , Senior Vice President of Guitar Merchandising. "We were honored to be invited by Eric to collaborate with him on this unique collection of guitars which have been the inspirational tools of his trade throughout his career."
For more information on the Eric Clapton Crossroads Guitar Collection please visit www.guitarcenter.com/Clapton.
Source: PR Newswire