This year will see Teenage Cancer Trust Ambassador Harry Judd (from the boy band McFly) and his Merry Men take on not one, but two challenges of severe endurance.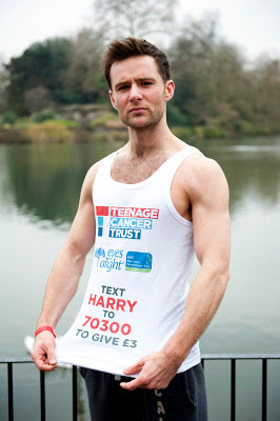 The team is made up of Harry Judd and his 4 friends Nick, Stuart, Rob and Ben.
The first challenge will see the boys complete the London Marathon on 21st April. The second task (just two weeks later) is Tough Mudder, a 13 mile assault course with all manner of obstacles. The boys will be raising money for Teenage Cancer Trust and Eyes Alight!.
Teenage Cancer Trust is the only UK charity dedicated to improving the quality of life and chances of survival for the six young people aged between 13 and 24 diagnosed with cancer every day. They build specialist units within NHS hospitals bringing young people together to be treated by teenage cancer experts in a place designed just for them. They want every young person with cancer to have access to this specialist support, no matter where they live.
Traditionally treated alongside children or elderly patients at the end of their lives, young people can feel extremely isolated during treatment, some never meeting another young person with cancer. Being treated alongside others their own age can make a huge difference to their whole experience.
Teenage Cancer Trust also educates young people and health professionals about cancer to ensure a swift diagnosis and referral to specialist support. Cancer in young people is rare but they want young people to know the common signs and symptoms so they can seek medical advice if they are worried.
The second charity is the Eyes Alight appeal, part of the Brain Injury Rehabilitation Trust (BIRT).
The Eyes Alight appeal raises money for BIRT which will be used to pay for things that give service users something to enjoy or look forward to as they go through the daunting and difficult process of brain injury rehabilitation. Alongside this, they are making improvements to the range of resources available to support the rehabilitation process, with input from service users as to what would make a real difference to them personally.
The appeal was set up by Izzy Judd and her family. Izzy's brother, Rupert, was seriously injured in a road accident in 1997.
"Eyes Alight is totally inspired by my brother Rupert who suffered a serious brain injury as a result of a car accident. Rupert's story is just one of so many stories about people who, sadly, are going through long term brain injury rehabilitation. After getting to know other service users at Kent House, I noticed that there were things that would make a big difference to their lives. For example, laptops to help them keep in touch with their family and friends, developing a sensory garden for everyone to enjoy, and providing music therapy sessions which are both fun and an aid to rehabilitation. By supporting the Eyes Alight Appeal, together we can make brain injury rehabilitation a little bit brighter."
To support Harry and his Merry Men, visit their donation page or text HARRY to 70300 to donate £3.
Source: Teenage Cancer Trust