Top country music artists Darius Rucker and Randy Houser have both started the new year off with successful music releases, but they are also being recognized for their volunteer work with Musicians on Call (MOC), a nonprofit organization that brings live and recorded music to the bedsides of patients in healthcare facilities.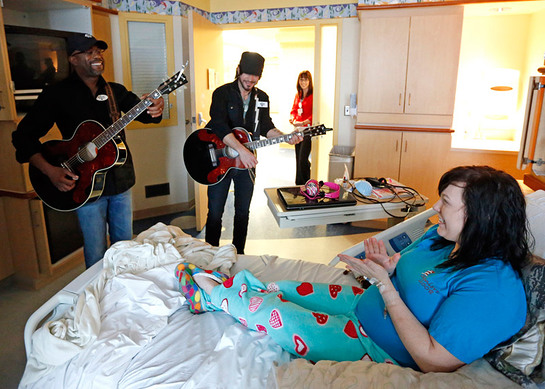 NBC's Lester Holt recently traveled to Nashville, Tenn. to join Rucker and Houser as they performed and visited with patients at Monroe Carell Jr. Children's Hospital at Vanderbilt through the MOC Nashville branch. The visit, recently highlighted in Country Weekly magazine, was the focus of the Making a Difference segment of NBC Nightly News on Saturday, Feb. 16.
The two artists shared with Holt their experiences over the years performing for patients in healthcare facilities and the influence it has on them personally to witness the visible affect music has on these patients. Weighing in on the advantages of having Musicians On Call in their hospital was Dr. Elisabeth M. Dykens, Professor of Psychology and Human Development and Director of the Vanderbilt Kennedy Center for Research on Human Development, who can personally attest to the patient benefits achieved through music.
"Everyone could see the impact of music on the patients, their families and hospital staff when Darius Rucker and Randy Houser entered the hospital rooms to play a song just for them," shares Musicians On Call Executive Director, Dr. Leslie Faerstein. "Musicians On Call goes to the bedsides of patients 41 times a week in 6 cities and delivers the healing power of music to those who need it most."
Source: Musicians On Call