The Duchess of Cornwall donned a hand puppet to keep a group of tiny tots amused as she joined best-selling author James Patterson to launch a campaign to get fathers reading to their children last week.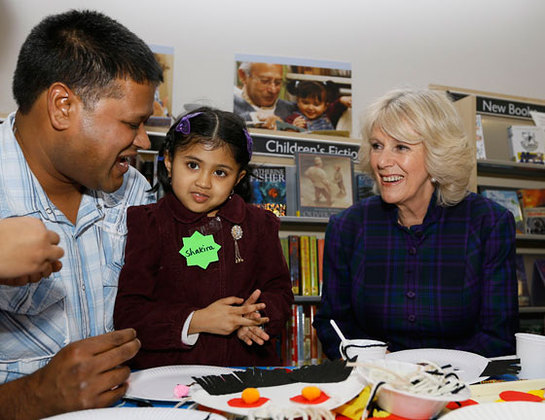 As a storyteller read the classic tale Where The Wild Things Are to the youngsters in West Greenwich Library, The Duchess shook the puppet during the dramatic moments.
The toy was a character from the story by Maurice Sendak about a little boy who travels to a magical land inhabited by fantastical creatures and becomes their king.
With five grandchildren, Her Royal Highness has had plenty of practice at keeping little ones entertained.
The Duchess also read the famous poem by AA Milne about changing the guard at Buckingham Palace.
Before she started, she joked with her young audience and their parents, telling them: "It's a poem my father used to read to me – that was about 100 years ago."
The Duchess and Patterson had travelled to Greenwich in south-east London to launch the Booktrust's Get Dads Reading campaign.
The Duchess is the organization's patron, while the US thriller writer, who has sold more than 250 books worldwide, is a founding partner of a fund run by the Booktrust to get disadvantaged kids reading.
Patterson, who was also joined by his wife Sue, stressed that it was the responsibility of parents to encourage their children to read and not that of their school.
He said: "We are here to save lives, that's my role, because if you cannot read your life will be severely disadvantaged.
"This is not about reading Charles Dickens or Shakespeare but learning to read with confidence and if you can do that you can make your way through school, college and work.
"If you cannot read you just look at school and think 'This is hopeless' and so you reject it. America is ahead in getting kids to read, the UK is behind America – something's going wrong here."
Source: PrinceOfWales.gov.uk