The Humane Society of the United States has named Universal Picture's "Big Miracle," Imax/Warner Bros.' "To the Arctic" and Sony Pictures' "Darling Companion" among the diverse selection of nominees in contention for its 2013 Genesis Awards, which honor the news and entertainment media for their role in raising awareness of animal issues.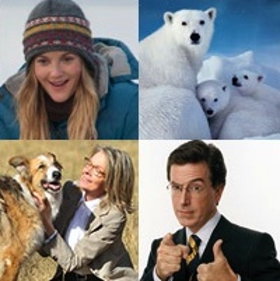 Comedy Central's "The Colbert Report" and "Futurama," and NBC's "The New Normal" are in the running for the Genesis Sid Caesar Comedy Award, while ABC's "Grey's Anatomy," NBC's "Harry's Law and FX's "Sons of Anarchy" are up for the dramatic series award.
Winners in select categories will be presented at The HSUS' Genesis Awards Benefit Gala, hosted by "Dancing with the Stars" Carrie Ann Inaba, on Saturday, March 23, at The Beverly Hilton in Beverly Hills.
In broadcast news, NBC's "Rock Center with Brian Williams" and "Nightly News,"ABC's "20/20,""Nightline" and "World News Tonight with Diane Sawyer,"and CBS' "60 Minutes," "CBS Evening News with Scott Pelley," and "CBS This Morning" are allin line for the hotly contested Genesis newsmagazine, national news and morning show awards.
On the cable television front, HBO's "One Nation Under Dog" takes on Discovery's "Ivory Wars" and Animal Planet's "Street Dog of South Central" for the Genesis TV Documentary award. And in reality programming, Nat Geo's "Wild Justice" and "Philly Undercover" are nominated alongside Animal Planet's "My Cat From Hell," and MSNBC's "Caught on Tape."
"For 27 years, the Genesis Awards have celebrated the power of the media to shed light onanimal protection issues," said Beverly Kaskey, senior director of HSUS' Hollywood Outreach and executive producer of The Genesis Awards Benefit Gala. "This yearone nominee, 'Big Miracle,'reflects the Genesis credo with its true account of how one TV reporter's story triggers a worldwide effort to save a family of imperiled whales, proving that the media can and does make a difference."