NENA – The 9-1-1 Association on Wednesday kicked off the NENA Foundation's "Friends of 9-1-1" fundraising campaign with a special screening of the new film The Call and an in-person appearance by the film's star, Academy Award-winning actress Halle Berry.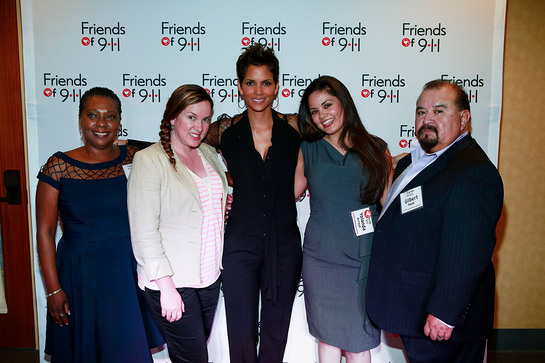 In the film, which opened in theaters nationwide on March 15, Ms. Berry plays a 9-1-1 operator attempting to save a kidnapped teenage girl. In preparation for the role, Ms. Berry was trained by actual 9-1-1 professionals at a Los Angeles Police Department emergency communications center. At the screening, the actress told more than 180 L.A.-area emergency call takers and other invited guests she was pleased to help launch the NENA campaign.
"Like most people, I had no idea what you do," Berry said. "But after seeing the vastness of it, I wanted to honor you in this role. And I want the world to know you are the unsung heroes of this city and every community in America."
"We are so grateful to Ms. Berry, Sony Pictures, and the entire team involved in this film for their support," said NENA CEO Brian Fontes. "Through the Friends of 9-1-1, we are expanding our support of education and training programs for 9-1-1 professionals and raising awareness of the issues facing every local 9-1-1 agency."
The NENA Foundation, a nonprofit that develops education and training programs for current and future 9-1-1 professionals. Funds from the Friends of 9-1-1 campaign support:
• 9-1-1 career training programs, including special outreach to military service veterans, high school, junior college, and vocational students;
• Scholarships, continuing education, and career advancement opportunities for current 9-1-1 professionals; and
• Public awareness campaigns designed to educate and inform consumers about the various human resource and other issues affecting the 9-1-1 system.
Anyone wishing to support the campaign may visit www.friendsof911.org to make a secure online donation. The NENA Foundation plans to conduct additional fundraising and awareness events and activities in the coming months.
Corporate sponsors of the Los Angeles event included Tracfone, Sony Pictures, Verizon, Hitech Systems, Intrado, AT&T, Cassidian, and TKC Consulting.
Other special guests included one of the film's producers, Michael Helfant, and screenwriter Richard D'Ovidio, who joined in a lively discussion session after the screening. The call takers in attendance lauded the cast and creators of the film for its realistic and ground-breaking portrayal of 9-1-1 operations.
"A lot of us could relate to this film," said California NENA President Cheri Lynn Rockwell, ENP. "It brings to life the kinds of stresses we face every day in California and across the nation, and why we need an effort like Friends of 9-1-1."
Said one 9-1-1 call taker after watching the film: "I've been a 9-1-1 dispatcher for 22 years, but this makes me excited to go to work tonight."
Source: PR Newswire