Ian Somerhalder – outspoken actor, activist and co-founder of the Ian Somerhalder Foundation – is working hard to help change the face of media.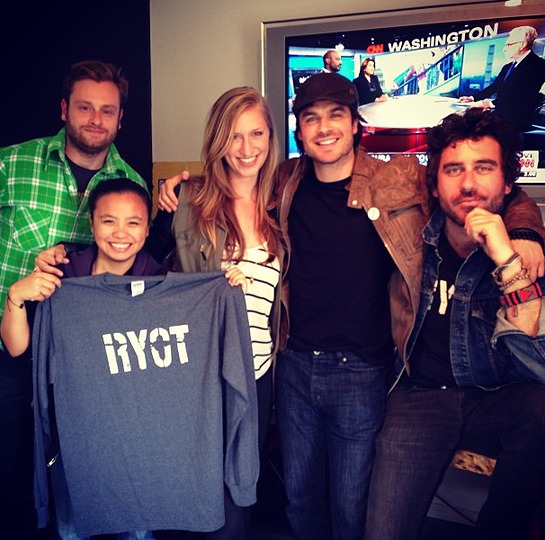 He has recently committed to the advisory board of RYOT.org, a highly progressive interactive news site that allows readers to become the news as well as donate to causes and organizations that are working to make a difference in the world.
"We started the Ian Somerhalder Foundation (ISF) because we didn't like the feeling of helplessness that came with environmental catastrophes such as the BP oil spill. I know there are a lot of people out there just like me who really want to make a difference," said Somerhalder via his ISF office. "The news media serves a very useful purpose in communicating things that are happening in the world around us, but traditionally it doesn't allow the opportunity for people to really get involved and generate positive change. That's what is so appealing to me about RYOT. Every story gives you the option to get involved, to give, to reach down inside yourself and find what touches your heart and to react right that very second."
The philosophy behind RYOT.org is that there are many ways to make a difference. Readers who are not able or who do not wish to make financial donations to organizations are encouraged to get their news from RYOT to stay informed, to learn about organizations featured in RYOT stories, to participate by signing petitions, registering to vote or committing to volunteer time (a precious resource needed by so many charitable organizations).
"We also really want to encourage people to share stories from RYOT," said Somerhalder. "Passing on credible information is one of the most meaningful and powerful ways to create positive change in the world. You never know who could be reading a story and how it can impact and change their lives. I couldn't say no to the opportunity to be part of the RYOT board because I saw immediately the potential of this incredible organization! It has so many parallels to what we do at ISF, especially in respecting youth and recognizing that this generation has a voice and something to contribute."
RYOT's co-founder, Bryn Mooser stated "RYOT is a disruptive, young news source that combines news with action. Ian is an inspiration to us, the way he uses his voice to continually push forward important social issues. He's bringing young people back to the news. Old news has made us depressed for so long, with RYOT we want to empower readers with every story. By taking action you can become part of the solution."
All donations received through the RYOT.org news site go directly to the participating organizations. A percentage of all revenue generated through advertising is donated to a featured nonprofit organization, which changes monthly.
To learn more about RYOT.org and how to get involved, please visit www.ryot.org.