On Tuesday, June 11, 2013, Colombian pop sensation and current coach on NBC's The Voice, Shakira, met with Hard Rock to donate items from her personal closet to the brand's legendary collection, while on set of the hit talent competition series.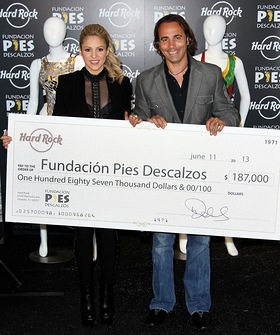 Among the new items added to Hard Rock's permanent collection are the sparkling gold stage outfit worn by Shakira during her 2009 MTV Europe Music Awards performance and the festive tank top and black fringe skirt she rocked in the music video for the official 2010 FIFA World Cup song, "Waka Waka (This Time for Africa)."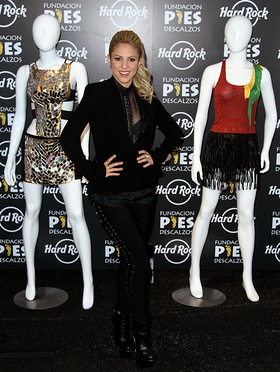 To commemorate the donation and honor Shakira's generous ongoing commitment to those in need, Hard Rock donated more than $185,000 to the singer's Fundación Pies Descalzos in support of the organization's new school project in Cartagena, Colombia. Throughout the brand's history, Hard Rock has raised more than 1 million dollars in funding for Shakira's non-profit organization and its previous school construction initiatives.
"I am honored to share these one-of-a-kind pieces from my closet with Hard Rock, a brand that has helped support my Fundación Pies Descalzos for many years," said Shakira. "With Hard Rock's generous contributions to the foundation through this donation and past projects, we have significantly helped transform the lives of thousands of Colombian children and communities in need."
Founded by Shakira in 1997, Fundación Pies Descalzos is devoted to providing higher education and support for Colombian children and community inhabitants whose lives have been displaced by violence and poverty. The non-profit organization is in the process of building its sixth Pies Descalzos School in Cartagena, which is projected to directly benefit 1,700 students and 34,000 parents and community members upon its completion. Visit www.fundacionpiesdescalzos.com for additional details.
"Throughout the years, Shakira has been a great friend to Hard Rock by partnering with us on a variety of our philanthropic initiatives including the hugely successful Signature Series and Artist Spotlight programs," said Tom Perez, Area Vice President, Hard Rock International. "We are proud to continue our relationship with Shakira, while supporting the Fundación Pies Descalzos and its ongoing commitment to the people and children of Colombia's local communities."