Andy Murray and Make-A-Wish UK recently made the dream of a young boy come true.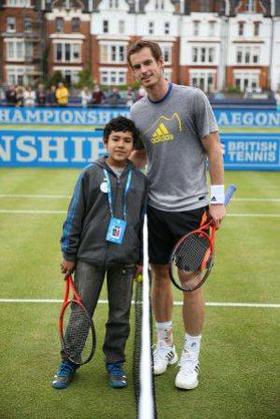 From Make-A-Wish.org.uk: For 12 year old Elijah tennis isn't just a hobby; it's helped him to take his mind off hospital appointments and chemotherapy since being diagnosed with cancer. So when Make-A-Wish told him his wish to meet his tennis idol Andy Murray was being granted, he was thrilled!
Elijah, who met Andy at Queen's Club during the Aegon Championships, was not only given the opportunity to watch Andy train… he also got to actually play with the No. 2 seed! He was then introduced to Andy's close friend, Ross Hutchins, who himself is battling Hodgkin's Lymphoma, before they took their seats to watch the centre court action.
Elijah, who is from London, was diagnosed with Acute Lymphoblastic Leukaemia (ALL) in February 2010 following a lung scan and bone marrow test. He endured a course of intensive chemotherapy followed by maintenance chemotherapy, which he finished last month. Elijah plays tennis frequently with a local club but had to stop for a while during treatment which his Mum, Catherine, described as very frustrating for him, as he dreams of one day becoming a professional tennis player.
She said: "When we found out that Elijah had ALL I didn't want to believe it – when you hear the word 'cancer' you become very frightened. Although the treatment stopped him playing as much, tennis has really helped to take his mind off everything that he's had to go through."
Elijah's Dad, Tito, who accompanied Elijah, said: "I'm speechless for all the efforts that have been put into making my son's wish a reality. Elijah was amazed, nervous and thrilled – so many emotions flared up in such a short time that Elijah was in mute mode for a second! But when Andy approached him with such kindness it broke the ice and it all went marvellously."
After meeting Andy Elijah said: "I'm really, really, really happy; it's been amazing!"
Andy Murray said: "It was a real pleasure to meet Elijah who is a keen and talented young tennis player. Despite going through a tough few years it's clear he's remained very dedicated. We had a knock-up on the practice court and he certainly put me through my paces!"
To see a video of Elijah's big day, courtesy of the Lawn Tennis Association, click here.
Source: Make-A-Wish UK