Usher Raymond IV and Usher's New Look Foundation last week recognized and honored four individuals at the 2013 President's Circle Awards Luncheon.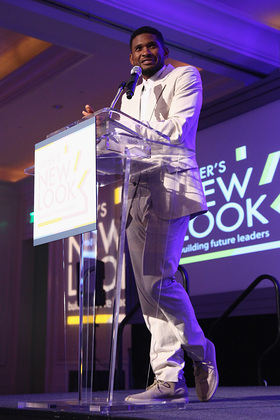 Honorees included: Actor and New Look Youth Ambassador Nadji Jeter; Collective Soul's Ed Roland; Lisa Borders of the Coca-Cola Foundation; and Julie Miller, Accenture Managing Director. Jeff Dauler emceed the event. Additional guests in attendance included: Dean Roland, Will Turpin and Joel Kosche of Collective Soul; Matt Ryan, quarterback of the Atlanta Falcons; First Lady of Georgia Sandra Deal, and Michelle Chamuel, Usher's runner-up contestant from "The Voice."
The New Look youth choir performed alongside Ed Roland, singing a rendition of his hit "The World I Know;" New Look alum Georganna 'DJ Ace Star' DJed the event, New Look youth alum Tommy Springer Jr. photographed the event and New Look alum James Harris, who is now the Atlanta program coordinator, spoke.
Usher's New Look, the non-profit organization founded by Usher Raymond IV committed to building future leaders, hosted the President's Circle Awards Luncheon. The Luncheon theme, "Honoring Leadership and Service Through Collaboration," presented an opportunity for influencers, opinion makers and New Look's supporters to come together and recognize four powerful leaders, all of whom value the importance of empowering youth as leaders and change agents
around the world.
Mary Brock, Owner of the WNBA's Atlanta Dream and John Brock, President & CEO of Coca-Cola Enterprises Chaired the event. Usher Raymond IV, Shawn Wilson, president of Usher's New Look and New Look's President's Circle Members and Advisory Council hosted. The President's Circle Awards Luncheon was made possible by Ford Motor Company.
For more information about Usher's New Look, please visit www.ushersnewlook.org.