The multi-talented musical comedian Bill Bailey has joined Youth Music as a celebrity supporter.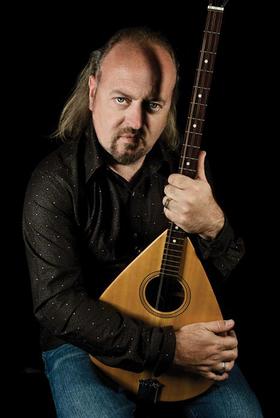 Youth Music is very pleased to announce that stand-up comedian and musician Bill Bailey has become one of their Ambassadors. He joins their other Ambassadors – including Myleene Klass, Goldie and Sir James Galway – supporting them to provide life-changing music-making opportunities for children and young people with least opportunity.
Bill Bailey said: "I'm delighted to become an Ambassador for Youth Music. I discovered the joys of music-making as a teenager and music has been a huge part of my life ever since. I can't imagine life without it and I believe every child should have the opportunity to make music in whatever way they like, whether it's singing, getting involved in music production or even playing the theremin!


"The music projects Youth Music supports around the country, especially with their focus on children with least opportunity, make a huge difference to thousands of young people's lives, not just in developing their musicality but in raising their self-esteem and broadening their horizons in terms of what they can achieve in life."


Youth Music's Executive Director, Matt Griffiths said: "We are thrilled to have Bill Bailey become one of our Ambassadors. His musical genius is as astonishing as his versatility across so many instruments. His stage shows combining all this with humour are a joy to behold. We are indebted to him for his support."

Something which particularly resonates with Bill is Youth Music's concern at the low level of participation in school music qualifications. Under 1% of A level entry is accounted for by music students.
"Sadly, I was the only kid in my year to take an A level in music and it's unfortunate that interest in music as a school subject is so low. I know this is something Youth Music cares about and I'm glad. I think it's important that children feel encouraged to take music as a subject at school, it's very rewarding."
Youth Music aims to address this issue by offering some new perspectives on how young people's interest in learning music can best be harnessed.
Their Fresh Thinking for Music Education breakfast seminar on Wednesday 24 July will tackle this subject. Leading figures from the music business, including BBC Radio 1 presenter Jen Long, veteran music critic Pete Paphides and Chris Price (formerly Head of Programming at online music discovery service Last.fm) will offer their insight into the latest ways young people are engaging with music.
Online viewers will be able to watch the seminar live from 8.45am on Youth Music's YouTube channel. Questions for the Q & A session can be tweeted using the hashtag #ymseminar, and you can follow them at @youthmusic.
Find out more about Youth Music here.
Source: Youth Music