By Misty Schwartz on
American Family Housing (AFH) is hosting their 2nd annual Pigs, Ribs and Watermelon Professional BBQ competition and Beer festival at the Huntington State Beach parking area of Pacific Coast Hwy and Beach Blvd.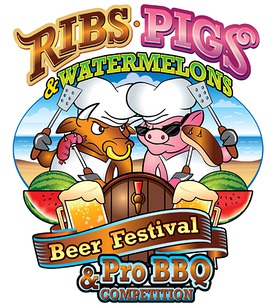 This is a Kansas City BBQ Society sanctioned event and competing for the $10,000.00 purse will be 50 of the top west coast and some nationally ranked BBQ teams including teams from the TLC reality television show on BBQ Pitmasters. The 2nd Annual Pigs, Ribs and Watermelon Professional BBQ will provide beach goers the opportunity to revel in enjoyment of professionally prepared BBQ treats, craft beers and ice-cold watermelon in Huntington Beach.
The public is invited to stop by and meet these BBQ masters in person, purchase and taste competitor's meats, and meet their favorite celebrity guests. Tastings include: chicken, pork ribs, pork and brisket. The public will also get to choose the winner of the "Taste of BBQ" during the event by voting for their favorite BBQ team on Saturday from noon until 5:00 p.m.
Event details:
Friday, August 16 from 5:00 p.m. until 10:00 p.m.
Saturday, August 17 from noon until 10:00 p.m. (Kids BBQ competition for children ages 6-15 that is open to the public)
Sunday, August 18 from noon until 8:00 p.m.
Each day the event will be visited by celebrities such as Jake Busey (Starship Troopers, Good Vibes), Scott L. Schwartz (Ocean's 11, 12, 13, Buffy The Vampire Slayer), David "Shark" Fralick (The Young And The Restless, Days Of Our Lives). They will also have BBQ and watermelon inspired cupcakes from Cupcake Wars Winner (Aloha Cupcakes) Erieka Pimentel of Bubba Sweets.
FREE watermelon for all with watermelon carving demonstrations, watermelon eating contest, seed spitting for distance contest, and other watermelon activities plus a chance to meet and greet the celebrities. On stage constant stream festivities such as rib eating contests, rock, blues, rockabilly music, they are providing something for everyone. The beer festival returns and will feature over a dozen flavors of small lot craft along with the flavorful BBQ meat.
American Family Housing was founded in May of 1985 by Executive Director, Jim Miller, as he noticed the growing numbers of homeless families living in parks in Orange County. American Family Housing has evolved from meeting the basic needs of providing food and clothing to an organization of 61 properties providing services of emergency housing, transitional housing, and permanent housing to assist its clients toward stability and renew their way of living. Housing Facilities are located in Orange, Los Angeles and San Bernardino counties. For more information on American Family Housing visit www.afhusa.org or call (714) 897-3221 or Ribs, Pigs & Watermelons visit www.rpwbbq.com.