All famous comedians get their start somewhere, and now here's an amazing opportunity for you to get yours with Omaze.com!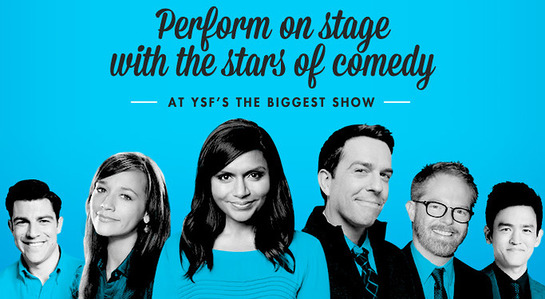 Omaze has just launched another once-in-a-lifetime experience, where the winner will share the stage with Mindy Kaling of The Mindy Project, Ed Helms of The Office, Jesse Tyler Ferguson of Modern Family, Rashida Jones of Parks & Recreation, Max Greenfield of New Girl, and John Cho of Harold & Kumar at Young Storytellers Foundation's biggest show.
The winner and their lucky friend will fly to Los Angeles (airfare and hotel included) to make their comedic debut alongside these famous comedians, while performing stories written by 5th graders to help an amazing cause. Anyone can enter to this once-in-a-lifetime experience by visiting Omaze.com and making a $10 donation to Young Storytellers Foundations, where every entry will provide a student with arts mentorship for a year.
Here's how it's possible – Omaze.com offers everyone the opportunity to engage in once-in-a-lifetime experiences with celebrities, athletes and the world's greatest thinkers with the proceeds benefiting a social cause. By visiting Omaze.com, you'll make a $10 donation to enter for your chance to share the stage with Mindy Kaling, Ed Helms, Jesse Tyler Ferguson, Rashida Jones & more, benefiting the Young Storytellers Foundation.
Now, what are you waiting for? The contest closes TODAY, October 4th, 2013. SO BE QUICK!