Earlier this week, Tony Bennett and his wife Susan Benedetto, hosted the 7th annual gala event for Exploring The Arts which raised more than $1M for arts education in public high schools in New York City and Los Angeles.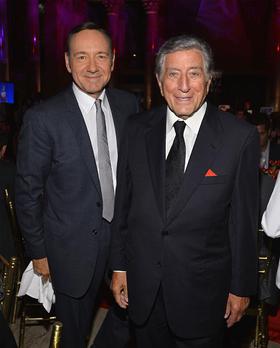 Gayle King, Co-Anchor of CBS This Morning and editor-at-large for O, The Oprah Magazine, hosted the evening with special performances from Kevin Spacey and Natalie Cole. The event honored Netflix Chief Content Officer and ETA board treasurer, Ted Sarandos who has led content acquisition for Netflix since 2000 and is seen as an innovator in film acquisition and distribution.
The evening began with Kevin Spacey's performance of "In the Wee Small Hours of the morning" and "All the Way", followed by Natalie Cole singing iconic favorites including "Best is Yet to Come" and "Unforgettable". To everyone's delight, Tony ended the evening with "They All Laughed," "Who Cares," and "The Way You Look Tonight." Students from the Professional Performing Arts School, which is an ETA partner school, also performed a rendition of "Get Happy." Among the more than 400 guests who attended the event at Cipriani on Wall Street, were Allison Williams, Regis & Joy Philbin, Harvey Weinstein, Georgina Chapman, Uzo Aduba, Natasha Lyonne, and Russell Peters: Notorious.
"2013 was a defining year for Exploring the Arts," Tony Bennett commented, "In May, we expanded our programs outside New York to three public high schools in East Los Angeles. ETA's main goal is to positively impact and change the lives of those involved in public school art programs across that nation and Susan and I are so thankful for the tremendous and continuous support year after year."
Exploring the Arts (ETA) was founded in 1999 by Tony Bennett and Susan Benedetto. Tony Bennett and ETA's initial endeavor was the founding of, in association with the Department of Education of NYC, the Frank Sinatra School of the Arts — a state of the art NYC public high school offering an extensive arts education curriculum located in Tony's hometown of Astoria, Queens. ETA programs connect private funders, individual artists, and cultural institutions to Partner Schools to achieve greater equality of resources and opportunity for youth of all means and backgrounds. ETA transforms the lives of young people by working collaboratively with public high schools to help them build quality arts programs through strategic planning and funding support. Currently, ETA serves 14 partnering high schools throughout New York City's 5 boroughs, benefiting more than 10,000 public school students, the majority of whom live below the poverty line. In May 2013, ETA expanded to support 3 public high schools in East Los Angeles.
Source: PR Newswire