Her Royal Highness the Duchess of Cambridge joined more than 70 SportsAid athletes past and present – including several Olympians and Paralympians – at the Copper Box Arena in the Queen Elizabeth Olympic Park last week for her first engagement as the charity's patron.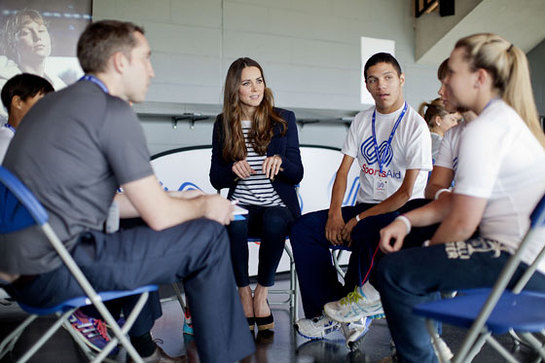 While the athletes played CP football, badminton, wheelchair basketball and volleyball, and tried their hand at fencing, the Duchess was introduced by SportsAid's Chief Executive Tim Lawler to 14-year-old badminton player Callum Hemming from Milton Keynes, 17-year triathlete Eliza Cottington from Teddington, 17-year-old boxer Jenna O'Reilly from Eltham, 17-year-old sprinter Kyle Powell from Heston, 16-year-old wheelchair basketball player Megan Wood from Hythe in Kent, 20-year-old judoka Nekoda Davis from London, 17-year-old fencer Rubin Amsalem from London and 18-year-old volleyball player Toby French from Chelmsford.
The Duchess even gave volleyball a go herself, playing several rallies with a group of SportsAid athletes including England men's volleyball squad member Jordan Dalrymple, who is 20 and from London.
After this the athletes learnt about social media and media interview techniques from Fiona Cotterill and James Pearce with swimmer Karen Pickering and wheelchair basketball player Ade Adepitan, got top nutrition tips from Jenny Tschiesche with rower Steve Williams, and later enjoyed the rare chance to ask diver Leon Taylor, rower Katherine Grainger, swimmer Steve Parry and middle-distance runner Danny Crates what it takes to compete at the top of your sport.
As SportsAid's patron, Her Royal Highness The Duchess of Cambridge is helping to shine a light on the achievements and potential of young athletes throughout the UK – an inspiring generation who one day hope to represent the nation at the Olympic or Paralympic Games.
SportsAid alumnus Sir Chris Hoy welcomed the patronage by saying, "SportsAid played an important role when I was starting out so I know what a huge boost this will be to the young sportsmen and women the charity helps today. As patron Her Royal Highness The Duchess of Cambridge will give them the profile they deserve."
Source: SportsAid.org.uk