Mending Kids International (MKI) celebrated its heroes at the WINGS AROUND THE WORLD – AFRICAN SAFARI GALA on Saturday, honoring Gene Simmons and his family – Shannon Tweed-Simmons, Nick Simmons and Sophie Simmons – with the MEND Humanitarian Award for their support of MKI and their other philanthropic efforts.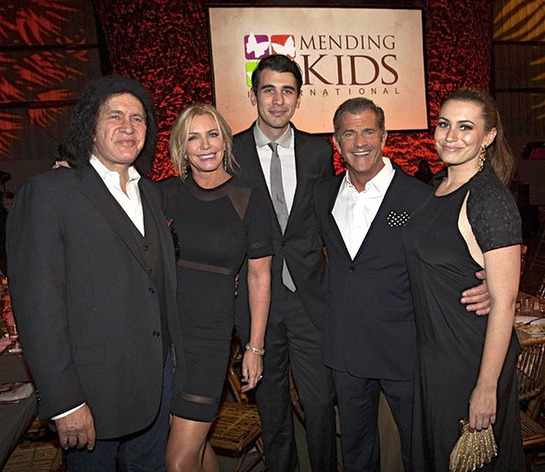 The award was presented by Mel Gibson, a long-standing supporter of the non-profit that provides free life-changing surgeries to children throughout the world.
Mel Gibson, who has joined several international missions, said, "Going on a mission is like a reset button on your soul."
In his acceptance speech, Gene spoke of his own difficult childhood, raised in Israel in a bullet-ridden house. He recalled his mother's excitement when they received a CARE box one day; it wasn't about the contents, it was about knowing that someone cared and they weren't alone – it gave them hope. When they moved to America, speaking no English, they were embraced by what he calls "the greatest place on the planet."
He continued, "Not every child is born with everything intact. I don't have the right NOT to give back and neither do you. Some mother somewhere is crying her heart out because her child can't have what we have in this country and we can change that."
He went on to praise his wife and children for doing their part to make this a better world, Shannon by raising "two of the best people I know who feel a spirit of service for their fellow man," and Nick and Sophie for their little-known good work.
Sophie has lived in seven countries where she worked in orphanages before building her own center for abused children in Surrey, British Columbia, appropriately named Sophie's Place.
Also honored were Sydney McDonnell, who has hosted 13 MKI children and nurtured them before, during and after their surgeries; she was presented with the HOPE Award by Simon Baker. Mike Takac, VP of Domestic Sales at Warner Bros., received the LOVE Award for his corporate support, which was presented by Harvey Levin. A teen award presented to three remarkable young people who serve their community and MKI was presented by Nia Peeples.
Other celebrities in attendance included Christopher Atkins, Iron Chef's Mark Dacascos, Greg Louganis, Dominic Scott Kay and performances by Dawnn Lewis, who sang the most appropriate self-penned song, "Take the Pain Away," and the Dembrebrah West African Drum and Dance Ensemble. David Ruprecht ("Supermarket Sweepstakes") did a terrific job auctioning donations for life-altering surgeries with Gene Simmons and Mel Gibson at the top of the donors list. Collectively, the two will be responsible for 305 children's vital surgeries. It is estimated that the evening raised over $800,000.
MKI has dramatically changed the lives of over 1,200 children in 54 countries on several continents including Central and South America, the Caribbean, Africa, Southeast Asia, and Hometown Missions in the United States. The critical surgeries provided by MKI have opened the door to healthy and promising futures for children who otherwise would not be treated due to lack of medical or financial resources. MKI also offers training and research to assist communities in creating self-sustaining surgical programs.
The charity is sustained by private and corporate donations. 92% of every dollar received goes directly towards helping children. Some of the sponsors that made the Gala possible include Deloitte, Warner Bros., Montrose Travel, Transparent Media Company, Ethiopian Airlines, Hubert's Lemonade, Zing Vodka, Alice's Traveling Tea Party, Jade Phoenix, cab.corp wine merchants, Hint water, Rock & Brews, Solar Rain, Skin Again, DJ Charles Feelgood, and more.
Source: PR Newswire