Victoria and David Beckham have donated eight packed boxes of their fabulous clothes to help raise money for the survivors of Typhoon Haiyan.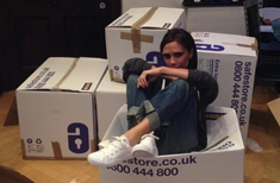 The superstar couple – both of whom are renowned for having lots of swish, top-of-the-range clobber – felt moved to act after seeing the devastating tragedy unfold in the Philippines.
The Beckhams are supporting the British Red Cross' Shop Drop for the Philippines campaign, where clothes donated to our stores are sold directly to help those hit by Typhoon Haiyan.
And now they are urging the British public to follow their lead by putting their own unwanted clothes and other items to good use.
Donate your clothes
Victoria Beckham said: "Typhoon Haiyan has devastated the Philippines, killing thousands and leaving hundreds of thousands homeless, and the Red Cross is carrying out an enormous relief project to help all those in desperate need.
"David and I urge everyone in Britain to join us in supporting the Shop Drop for the Philippines campaign. Everyone has something in their closet they were holding onto – a dress, suit, or pair of shoes they thought they might wear again.
"Dig them out, bag them up, drop them off and give someone else the chance to buy them. You'll be raising much-needed funds for the Red Cross' aid effort."
Top brands
Dozens of pieces from the couple's wardrobe went on sale on Friday (22 November) at the British Red Cross shop in Kensington and Chelsea, which specialises in designer clothing.
The donated collection includes dresses, tops, suits and shoes from labels including Dolce & Gabbana, Jimmy Choo and Roberto Cavalli.
The Red Cross is the only charity in the UK where donations are being sold to directly help those hit by Typhoon Haiyan.
Source: British Red Cross