The Duchess of Cambridge celebrated some of Britain's most promising Olympic and Paralympic hopefuls last week as she attended a glittering gala ball.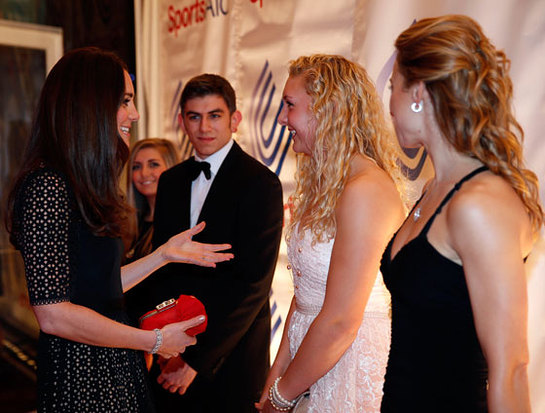 Her Royal Highness became the SportsAid's patron earlier this year and in October visited the former Olympic Park to see young sportsmen and women taking part in workshops run by the charity at the Copper Box arena.
The Duchess is a keen sportswoman and that occasion joined the young athletes to play volleyball.
Among the sports guests at the black-tie do held at a venue overlooking London's Victoria Embankment tonight were former Paralympic wheelchair racer Dame Tanni Grey-Thompson.
Dame Tanni, who recently became a SportsAid trustee, told The Duchess about some of the funds she had received from the charity: "I had £250 back then, which was a huge amount of money."
She added: "It was the first time anybody other than my parents had believed in me so it's nice to be back."
The Duchess also met three outstanding young athletes nominated for the SportsAid One-to-Watch Award, which will honour a young British sportsman or woman who has demonstrated extraordinary commitment to their sport and career.
Those shortlisted are 16-year-old shooter Amber Hill, from Bracknell, Berkshire, pole vaulter Harry Coppell, 17, from Wigan, and 18-year-old rower Jess Leyden, from Todmorden in West Yorkshire.
SportsAid is a charity which gives young athletes a financial boost and other practical help as they emerge on the international stage.
During London 2012 it helped 20 of the 29 Olympic gold medallists and 27 of the 34 Paralympic gold winners.
Sport stars supported by the charity in the past include cyclists Sir Bradley Wiggins and Sir Chris Hoy, heptathlete Jessica Ennis, diver Tom Daley, wheelchair racer David Weir and Paralympic swimmer Ellie Simmonds.
Tim Lawler, Chief Executive of SportsAid, said: "For The Duchess to be our number one special guest tonight is a validation, recognition – and also she's part of the team.
"She's been to the Copper Box, met the athletes, knows exactly what we do, the fit is superb – the sports ball wouldn't feel right without her involved even though it's her debut trip."
The dinner also featured a fundraising auction where items up for sale included the signed yellow Tour de France jerseys of the event's champion Chris Froome and last year's winner Sir Bradley Wiggins, a luxury break in the Swiss Alps and a signed framed photo of Wimbledon winner Andy Murray.
Before the evening was over The Duchess presented the One-to-Watch Award to Amber Hill, 16, who already competes with the senior British shooting team and is ranked fifth in the world.
This year at the World Championships she smashed a junior world record with a score that equalled the senior world record.
Source: dukeandduchessofcambridge.org