Rock and roll icon and artist Ringo Starr joined today in the national #GivingTuesday movement by donating twenty-five autographed jackets to be sold on eBay in support of WaterAid beginning on Tuesday, December 3.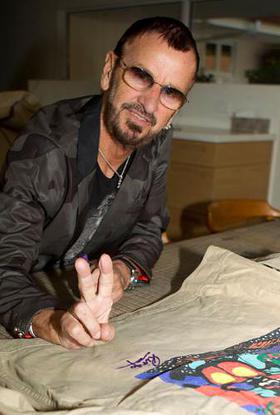 The hand-signed Timberland cotton khaki jackets will be available on eBay beginning at 10am PST on December 3, with bidding continuing through Friday, December 13. Online shoppers also have the option of purchasing the jacket outright through eBay's "Buy it now" feature.
All proceeds will benefit WaterAid, the largest international nonprofit dedicated to transforming lives through improved access to safe water, toilets and hygiene education.
"I believe in my heart that everyone should have clean water," Starr said. "Two thousand kids die every day from the lack of safe drinking water and it's time to say 'enough'! That's why I am asking people to join me in showing the world we care this holiday season by supporting WaterAid's work to help the world's poorest communities gain access to clean water."
The customized Timberland jackets feature prominent prints designed and autographed by Starr, and are available in men's sizes medium, large and extra-large. Shoppers who choose to purchase their jacket using the "Buy it now" option on Tuesday, December 3 will have their donation matched by a long-time supporter as part of the organization's matched-giving #GivingTuesday campaign.
"#GivingTuesday is all about inspiring people to take action and support the charities and causes they care about," noted WaterAid Associate Director of Corporate Partnerships, Annie Bonner. "We are thrilled that Ringo Starr has once again chosen to support WaterAid and our work to empower poor communities in their efforts to achieve access to clean water and toilets. It's about making a real difference in people's lives, and this initiative lets everyone be a part of that."
Support from committed partners like Ringo Starr is critical to WaterAid's work. In addition to helping WaterAid provide life-saving water and toilets, these partnerships allow WaterAid to reach even greater audiences with the important message that we all have a role to play in making clean water and toilets available to everyone, everywhere.
Source: PR Newswire