Harry Potter author JK Rowling and Happy Days star Henry Winkler are among those who have been named as the UK's "Literacy Heroes".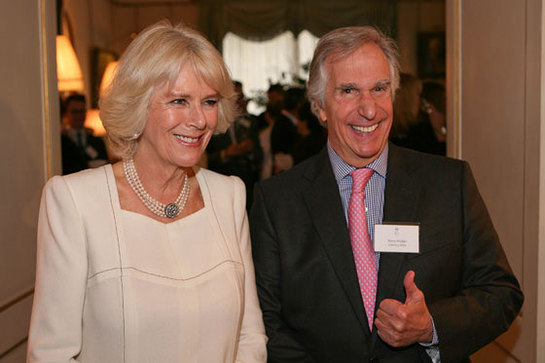 Eight others, including schoolchildren, a librarian, teachers, a Romany gypsy storyteller and a prisoner have also earned the accolade.
The first winners of the National Literacy Trust's campaign to find Britain's top 10 Literacy Heroes were unveiled by The Duchess of Cornwall during a reception at Clarence House. Each was picked because of the impact they have had on a community's reading and writing skills, or because they have overcome literacy problems of their own.
The Duchess, who is Patron of the National Literacy Trust, launched the campaign in early October after research suggested children were increasingly embarrassed to be seen reading.
She said: "I'm so proud to be the patron, and looking at these inspirational heroes and heroines – I'm not sure you're allowed to say heroines, but – it just shows how reading can change somebody's life.
"And there we are, that's what it's all about. I just also wanted to thank the judges, who had the Herculean task of sifting through all these entries, which couldn't have been easy.
"I suspect there are a lot more heroes lurking about, if we should ever do it again."
Turning to Princess Laurentien of the Netherlands, who also attended the event, The Duchess added: "Thank you to Princess Laurentien for coming all the way from Holland to see what we do here.
"She does a wonderful job in Europe with her reading and writing foundation and I hope she'll go away with a lot of ideas."
Over a two-month period, members of the public nominated hundreds of individuals for the Literacy Heroes award.
The winners were then chosen by a panel that included best-selling authors Joanna Trollope, Cressida Cowell and Dorothy Koomson, entrepreneur Levi Roots, actor, comedian and writer Miles Jupp, and columnist Lucy Mangan.
Cressida Cowell, who wrote How To Train Your Dragon, said: "It was very heartening though incredibly difficult to choose just 10 because there were so many you wanted to recognise.
"Getting children to read is a complicated business and what I love about these awards is they recognise people from all walks of life; librarians, teachers, children, who all have to get involved to get a child reading for pleasure."
JK Rowling, who penned the bestselling Harry Potter series, was chosen for turning a generation of children into readers.
She was unable to attend the ceremony, but tweeted: "I'm sorry I can't be at the literacy hero event, and am very touched to have been nominated."
Henry Winkler, who played The Fonz in Happy Days, is dyslexic and has written a series of children's books about Hank Zipzer, a bright schoolboy with learning challenges.
The 68-year-old American said: "I was told that I would never achieve anything, and now I'm here, that's a journey not to be sneezed at.
"The Duchess knew who I was, and we talked about children, the importance of learning challenges.
"She said I was a role model, but I'm not sure I'm a role model. All I did was write comedies with my partner, and then we got letters back and they said 'Oh, you're very funny'.
"She knew everything about me, it was like talking to somebody I had met many times before. Her husband and I have a birthday I think a day apart. I always felt very close to them for that."
The other Literacy Heroes include Jodie Evans, an Oxfordshire pupil who has overcome her own literacy issues to become a school library champion; Lisa Yong Hui Li, a secondary school student who judges found had made "amazing achievements" with English as her second language, and Aberdeen English teacher Caroline Thain.
The remaining heroes were Ruth Gasson, a youth librarian who has helped disadvantaged youngsters improve their literacy; Doncaster school librarian Lyn Hopson, who runs schemes to promote a love of reading among young people; Leeds teaching assistant Velda Jackson; Richard O'Neill, a Romany gypsy author and storyteller who works in schools to improve literacy among Traveller pupils, and a prisoner from HMP The Mount who is involved with the Storybook Dads project.
National Literacy Trust director Jonathan Douglas said: "Literacy Heroes and reading role models have never been more important at a time when our research shows that children's reading performance is declining, children are reading less and are holding more negative attitudes towards reading.
"The National Literacy Trust is delighted to celebrate our 20th anniversary by honouring the UK's top 10 Literacy Heroes who have made inspiring and significant strides to improve their own literacy or create positive opportunities for others."
Source: PrinceOfWales.gov.uk