Venturi Automobiles today announced a joint venture with award-winning actor and environmental activist Leonardo DiCaprio to enter a team in the new FIA Formula E Championship – the world's first fully-electric race series beginning in September 2014.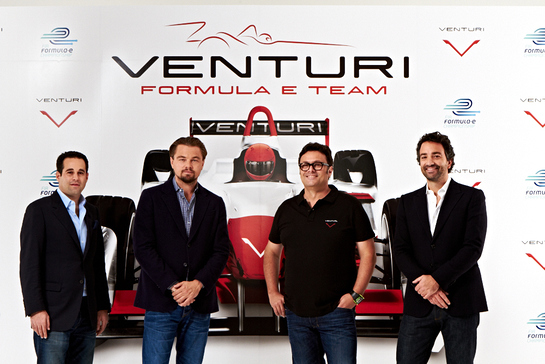 Based in Monaco, the new Venturi Grand Prix Formula E Team has been co-founded by DiCaprio and Gildo Pallanca Pastor, founder of pioneering EV manufacturer Venturi Automobiles, together with Bert Hedaya and Francesco Costa.
"The future of our planet depends on our ability to embrace fuel-efficient, clean-energy vehicles," DiCaprio said. "Venturi Grand Prix has shown tremendous foresight in their decision to create an environmentally friendly racing team, and I am happy to be a part of this effort."
"It's an honour and a pleasure to welcome the Venturi Grand Prix team as the tenth and final team of the FIA Formula E Championship," said Alejandro Agag, CEO of series promoters Formula E Holdings. "Gildo Pastor is a true pioneer in electric racing. From the desert of Salt Lake to Antarctica, his passion and vision pushes forward the technology barriers of what can be done with an electric car. But Gildo is not alone in this venture. Global entrepreneurs Francesco Costa and Bert Hedaya bring great experience and energy to the team.
"And of course, I want to give a very special welcome to our Championship to Leonardo DiCaprio. Very few environmental leaders have helped more than him to spread the message of sustainability around the world. Having people like him and Richard Branson – global ambassadors for the environment – is a privilege for our Championship and will greatly help us to spread the use of electric cars in cities around the planet."
Source: Venturi Automobiles