On Tuesday, September 19, Oceana supporters gathered at Rockefeller Center's Rainbow Room to celebrate the organization's 10th annual New York Gala.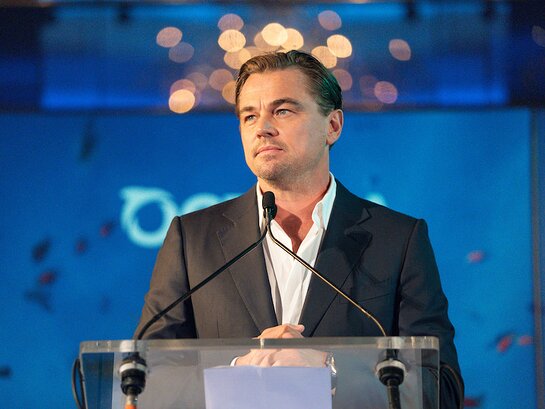 The event raised over $1.5 million in support of Oceana's global campaigns and featured an esteemed group of speakers and attendees, including master of ceremonies Ted Danson, Oceana Board Chair Sam Waterston, gala chairs Susan and David Rockefeller, event honoree Leonardo DiCaprio, Oceana Senior Advisor Alexandra Cousteau, and actress Christina Ochoa, among others.
"We've all read the horrible headlines about record ocean temperatures, species racing toward extinction, and children starving from lack of food," said Susan Rockefeller to the nearly 200 business, philanthropic, and cultural leaders in attendance. "Science tells us that if we can rebuild healthy and abundant oceans, we can feed more than a billion people a healthy seafood meal every day, forever. We can save the oceans and feed the world."
The event honored Leonardo DiCaprio, whose support has been instrumental in helping Oceana make fishing vessel activity public and trackable. DiCaprio provided the initial funding needed to launch Global Fishing Watch, which Oceana co-founded with SkyTruth and Google in 2016. This free tool provided the first global view of commercial fishing activity and is now working to map all industrial activities at sea. Oceana CEO Andrew Sharpless introduced DiCaprio, noting that Global Fishing Watch's impact is deterring bad behavior at sea worldwide.
This year's gala also honored Arcadia, a charitable foundation that works to protect nature, preserve culture heritage, and promote open access to knowledge. Since 2002, Arcadia has awarded more than $1 billion to organizations around the world and has been instrumental in Oceana's successful campaigns to protect and restore ocean life.
The evening concluded with a dance party led by musical guest The Rakiem Walker Project and featured artist GLR¥A.
Oceana's exclusive watch partner, Blancpain, was the presenting partner for this year's event. For the past 70 years, since the 1953 launch of the world's first modern diving watch, the Fifty Fathoms, Blancpain has established deep connections with the world's oceans and the communities dedicated to their preservation. Through its ocean exploration and conservation initiative, the Blancpain Ocean Commitment, Blancpain has supported dozens of major scientific expeditions, including two with Oceana. The two organizations work closely together to further important contributions to ocean conservation.
Over the past 10 years, Oceana's New York Gala has raised more than $14 million to help deliver policy victories in New York and around the world. In the past year alone, Oceana has won more than 30 victories for the ocean and planet, including policies that address single-use plastics in New York City and end the devastating shark fin trade in the United States.