Leading philanthropists who have donated millions to the arts have been honoured by The Prince of Wales.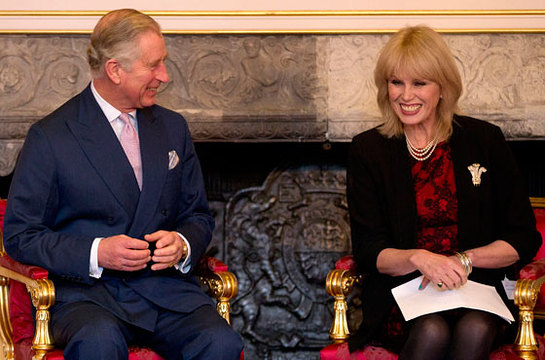 The civic-minded individuals who have also nurtured talent, supported institutions or shared their experience received an award from The Prince.
Among the recipients of The Prince of Wales Medal for Arts Philanthropy, now in its sixth year, was Lord Rothschild the investment banker and a member of the Rothschild banking family.
The other philanthropists honoured were Lady Bernstein, Philip and Christine Carne, Delfina Entrecanales and Ian and Mercedes Stoutzker.
Joanna Lumley, who hosted the awards ceremony at St. James's Palace, said after the event: "It is sometimes easy to overlook the stupendous support private philanthropists give to artistic organisations in this country.
"People may say: they are rich, they can afford to give lots of money. But I have lived a long time, and it seems to me that people either are givers or watchers: and all those named today are givers of the finest kind."
Lord Rothschild is an important figure in Britain's cultural life having served as Chairman of the board of trustees of The National Gallery, and chairman of the Heritage Lottery Fund – a role he described as "chief shopper for the British nation," where he oversaw the distribution of more than £1billion in grants.
He was also instrumental in the restoration of Somerset House and through the Rothschild Foundation has given large sums to the National Gallery, British Museum, the Royal Ballet School, the Ashmolean Museum, and the Royal Academy of Music.
Among the others honoured, Lady Bernstein has supported the world of dance providing funds for the dancer and choreographer Akram Khan and others, while Philip and Christine Carne have funded more than 100 scholarships at institutions like the Royal College of Music and the Royal Academy of Dramatic Art.
The awards are run by the organisation Arts and Business, part of the charity Business in the Community – a member of The Prince's Charities.
Philip Spedding, Director of Arts and Business, said: "These five philanthropists have each supported the arts in very different ways, highlighting the broad nature of cultural philanthropy today.
"Their stories are important because they act as an inspiration to others, not just on how to explore a personal passion for the arts but also on the huge impact an individual can have through their philanthropy."
Source: PrinceOfWales.gov.uk