Miley Cyrus has taken to twitter to support a new indy film that challenges censorship laws in the US.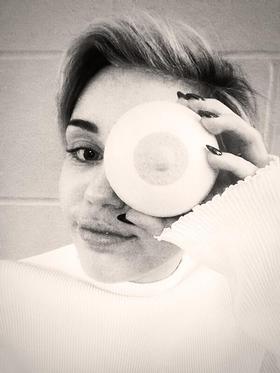 On Wednesday (Dec. 11), the 21-year-old singer tweeted to support the Free the Nipple campaign by posting a photo of herself holding a large, fake nipple over her left eye. Miley, who is known for her edgy style is now speaking out on behalf of the film, FREE THE NIPPLE. The singer recently wore a provocative campaign t-shirt at an after party for Jingle Ball and has since tweeted several times to fans and with Cosmopolitan.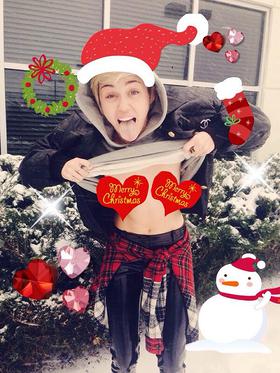 Other celebrities like Kellan Lutz, Russell Simmons and Rumer Willis have shown support by tweeting as well.
The film FREE THE NIPPLE poses the question "What is more obscene… A murder or a nipple?" The indy film comes from debut director, Lina Esco who wanted to challenge the backwards censorship laws in America. The controversial film, which stars Lola Kirke, Monique Coleman, Casey LaBow and Janeane Garofalo is based on the true events of two women who ignite a revolution to fight the backward censorship laws in America. The story explores why there is so much controversy over a woman's nipple while an American child will see over 200,000 acts of violence and 16,000 murders on Network TV before they turn 18.
In an ironic twist, the movie is facing NC-17 censorship from the MPAA, thus Miley and other celebrities have gotten on board to raise awareness and funds for the cause via www.fundanything.com/freethenipple.