Aflac, the number one provider of supplemental insurance in the United States, will present its 2013 Duckprints Awards to local heroes for their role in fighting against childhood cancer.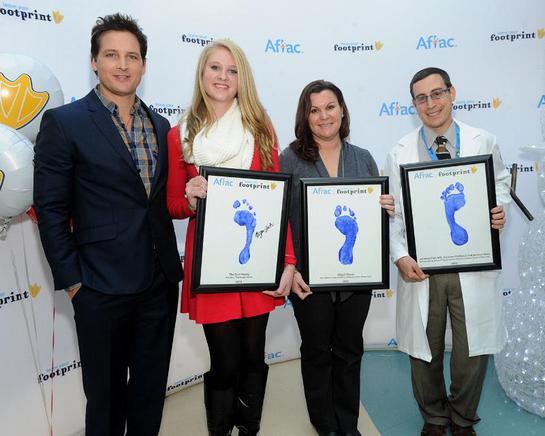 Aflac's Duckprints program is the company's way of championing individuals who stand out in the ongoing battle against children's cancer, which remains the number one cause of death by illness for people under the age of 15. The company hopes to raise attention for childhood cancer and increase donations to the cause. Aflac has given more than $85 million to children's cancer causes since 1995.
Hosting this week's event is Hollywood star and native New Yorker Peter Facinelli, aka Dr. Carlisle Cullen in the popular Twilight Saga and Dr. Finch Cooper on the hit series Nurse Jackie on Showtime. Mr. Facinelli will help bestow the Duckprints Awards to Jonathan D. Fish, MD, the founder of a clinical long-term follow-up program for children's cancer survivors at Cohen Children's Medical Center, part of the North Shore-LIJ Health System, and Abigail Slaven, RN, a pediatric oncology nurse, also at the Cohen Children's Medical Center. Also being honored is Morgan Zuch and her family. Morgan was diagnosed in 2000 with Acute Lymphoblastic Leukemia at the age of two and upon receiving a clean bill of health, she and her family embarked on the creation of a non-profit education center for preschool aged children with cancer called The Morgan Center in Hicksville, NY.
"As an actor I have had the chance to play heroes on screen, but families facing the real-life threat of cancer are the true heroes," Mr. Facinelli said. "As a father of three healthy children, I am proud to honor Morgan, Dr. Fish and Abigail for their dedication and commitment to the families they serve and the lives they save."
"Aflac is proud to honor the Zuch family, Dr. Fish and Nurse Slaven with a 2013 Duckprints Award for their dedicated service to children facing cancer," said Kathelen Amos, President of the Aflac Foundation. "By leaving their large footprints on this worthy cause they have demonstrated the values that our company, our employees and our independent sales agents hold dear — that being there for others in their time of need is a very admirable mission."
To help raise funds and awareness around America's unsung heroes, Aflac is asking people to become socially active in the cause. The company is donating $2 to the Aflac Cancer Center for any duckprints-related social actions taken on various social mediums up to $2 million through December. Related social actions include:
• Twitter – $2 for any tweet using the hashtag #duckprints or for retweets of duckprints related tweets
• Facebook – $2 for any share of specific posts related to duckprints or using #duckprints
• YouTube Views – $2 per every view of the duckprints videos on YouTube
• Share This – $2 for every duckprints related video shared
To support the Aflac Duckprints initiative, Aflac also created a new website called aflacduckprints.com that enables users to nominate unsung heroes in their community who have made a difference in the lives of children and families facing cancer. People can follow the Aflac duck on his journey to hospitals around the country honoring those who have made a difference in the fight against childhood cancer. In addition, merchandise such as plush Aflac Ducks and Duckprints related t-shirts, slippers and other items will be available for purchase at aflacduckprints.com with all of the net proceeds going toward the treatment and research of childhood cancer.
Source: PR Newswire