On Friday, June 2, Multiple Sclerosis (MS) advocate and Center Without Walls founder Nancy Davis welcomed guests to the Fairmont Century Plaza for the 30th Annual Race to Erase MS Gala.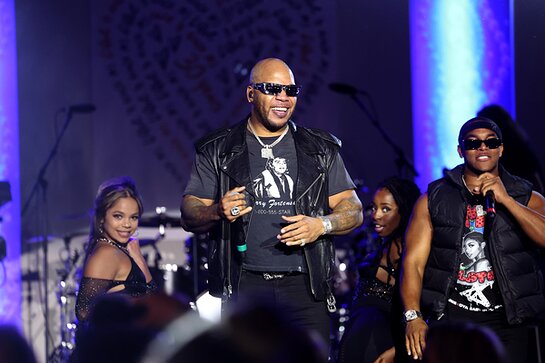 The event raised over $2 million to benefit the Race to Erase MS and its Center Without Walls program, a collaboration of top MS research centers working together as a team on ground-breaking research with the goal of treating and, ultimately, finding a cure for MS. The star-studded event featured performances by Flo Rida and Siedah Garrett. Additionally, Cinq à Sept kicked off the evening with a fashion show, featuring the Fall 2023 Fashion Collection.
Guests at this year's landmark event included Race to Erase MS Founder Nancy Davis, performers Flo Rida and Siedah Garrett, and special guests Alan Bersten, Anna Trebunskaya, Arielle Raycene, Ashlee Simpson Ross, Bershan Shaw, Camerone Parker, Caroline D'Amore, Cheryl Burke, Christine Devine, Cindy Cowan, Dave Winfield, David Faustino, Dawnmarie Deshaies, Dedee Pfeiffer, Denise Richards, Devon DeJardin, Diana Madison, Doni Nahmias, Ed Begley Jr., Emil Gampe, Faly Rakotohavana, Foodgod, Francesca Capaldi, Heidi D'Amelio, James Tupper, Jane Siskin, Jason Wahler, Jay Huguley, Joely Fisher, Joel Michaely, Joey Zauzig, Jovana Benoit, Katie Cassidy, Kola Bokinni, Lawrence Zarian, Lisa Stanley, Marg Helgenberger, Matt Cooper, Mickey Popat, Scheana Shay, Torrei Hart, Trinity Jo-Li Bliss, Vicky Popat and more!
Nancy Davis wore a Cinq à Sept gown for the event, and special guests such as Alessandra Ambrosio, AnnaLynne McCord, Kathy Hilton, Siedah Garrett, Olivia Sanabia, Rocky Barnes, Gigi Gorgeous, Elisabeth Röhm, Mei Kwok, Crystal Kung Minkoff, Cristina Ferrare, Shaun Robinson, Hayden Carson Begley and more were dressed in Cinq à Sept as well.
Introduced by her daughter Isabella Rickel, Race to Erase MS founder Nancy Davis took the stage, thanking guests for being in the room to celebrate the 30th Annual Gala. Regarding the start of her journey to found Race to Erase thirty years ago, Davis shared, "Instead of singing a song of defeat, I became inspired by a song my parents played constantly in our home, The Impossible Journey, and that became my quest – to beat the unbeatable foe, to reach the unreachable star, no matter how hopeless and no matter how far. Without the option of defeat, I laid down the foundation for what became the Race to Erase MS."
Davis also took a moment on the stage to celebrate thirty Race to Erase MS supporters who have been instrumental to the cause over the last thirty years. She said, "Together we have done what others thought was impossible. There are now twenty-five drugs on the market to help stop the progression of MS."
Peter Facinelli introduced the luxurious live auction, which featured one-of-a-kind opportunities including a unique VIP chef's experience from Steak 48; a four-night stay at the Little Nell & Aspen Skiing Company in Aspen including two round-trip tickets from Aero; a four-night stay at the fabulous Four Seasons Resort Maui at Wailea including two round-trip, First-Class tickets from Alaska Airlines; a two-day Paris culinary extravaganza with Daytime Emmy-nominated Chef Edward Delling-Williams; a cruise to go to Catalina Island on an 80-foot yacht for up to twelve guests; a six-night exclusive retreat for eight guests at private Scottish residence, Tigh an Tuir, and more. The big item of the night was the Aston Martin DBX707 AMR23 Edition, signed by Lance Stroll and Fernando Alonso, along with invitations to a Formula One race.
The event also showcased a video montage celebrating the last thirty years of the Race to Erase MS Gala. The video highlighted past performers including Earth, Wind & Fire, Elton John, Steven Tyler, Stevie Wonder and many more, in addition to statements from doctors, and patient stories.
Evan Ross took the stage to introduce musical guest Flo Rida who brought down the house playing hits "Good Feeling," "Right Round," "Low," "My House," and more.
As in years past, an uplifting rendition of "Lean On Me" was performed as the finale of the evening by Greg Phillinganes, Siedah Garrett, and Thelma Houston. They invited audience members to join them onstage to close out the special evening.
Race to Erase MS was founded in 1993 by Nancy Davis and is dedicated to the treatment and ultimate cure of Multiple Sclerosis. Since the Race to Erase MS foundation was created, there has been more than $58 million raised and 25 FDA approved therapies created to aggressively fight MS that have provided hope, inspiration, and resources to those in the Multiple Sclerosis community. The gala directly benefits the foundation's Center Without Walls program, a unique collaboration between the world's leading MS research scientists and investigators who have bolstered their individual efforts into collective action that has led to exciting discoveries in the search for a cure.
The Center Without Walls program currently includes physicians, scientists, and clinicians from Cedars-Sinai, UCSF, Harvard, Yale, Oregon Health Science University, Johns Hopkins, UCLA and USC. The Race to Erase MS Gala has been instrumental in funding pilot studies that have contributed to drugs now on the market and other very important therapies that are improving the lives of people worldwide suffering from MS.
Davis also created the annual "Orange You Happy to Erase MS" campaign, which takes place for the entire month of May (MS Awareness Month) and adds yet another branch of fundraising for MS research. Throughout the month, a variety of orange products, many of which are specially created for this initiative, are sold to benefit the cause and elevate public awareness about MS.