Temperatures in the U.S. are at record lows, but that didn't stop PETA's "Lettuce Ladies" from dressing only in strategically placed lettuce leaves this week to kick off Russell Simmons' new PETA campaign on The Tide, the light-rail system in Norfolk, Va.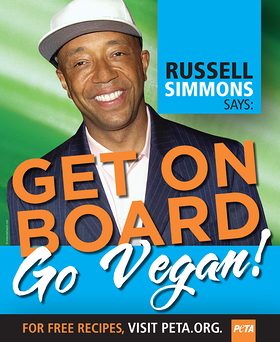 The ads – which are also on display on Metro buses in Washington, D.C. – encourage anyone who is tempted to get healthy, help animals, or "go green" in 2014 to "get on board — go vegan!"
PETA and Russell Simmons are setting out to counter the fast-food industry's constant marketing to urban areas. "I grew up in Hollis, Queens and always make it my job to never forget where I came from," Simmons says. "I am particularly saddened that in poor urban communities the cheapest, most accessible food is fast food, which is also the most likely to increase the risk of developing various diseases and illnesses." Fortunately, delicious and affordable vegetarian meals such as veggie burgers are available everywhere, from supermarkets to chains such as Denny's and Burger King.
On average, vegans and vegetarians are significantly leaner than meat-eaters are, and the consumption of meat and other animal-derived products has been conclusively linked to heart disease, strokes, diabetes, cancer, and obesity. Vegan meals are also an excellent choice for people who get digestive problems from cow's milk, a condition affecting 70 percent of African-Americans.
For more information, visit PETA.org.
Source: PETA