A fourth-year fashion design student at Leeds University got a jump start on her career today, thanks to winning the first-ever competition to create a vegan shoe with Beyond Skin and PETA.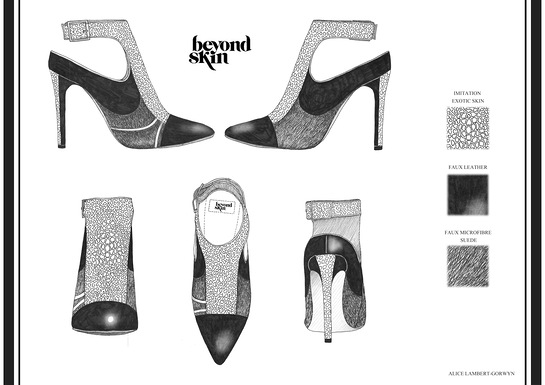 Alice Lambert-Gorwyn, 22, beat entrants from as far away as Brazil and the US to be the creative force behind the new animal-free shoe. Judging the competition, Irish MTV Europe and I'm a Celebrity…Get Me Out of Here! NOW! presenter Laura Whitmore described Lambert-Gorwyn's winning design, which will go into production and hit the market in time for spring/summer 2014, as "slick and sophisticated" and noted that it had "the better shoe construction".
"I truly believe that the future of fashion lies in sustainable, cruelty-free materials, and companies like Beyond Skin and organisations like PETA are leading the way in creating awareness", Whitmore says. "For someone who loves fashion and cares about animals, the great news is that from the catwalk to the high street, the availability of clothes and shoes made from faux leather and faux suede is on the rise."
Lambert-Gorwyn's high-heel design is made from imitation exotic skin, faux leather and faux microfiber suede.
"I am extremely passionate about animal welfare", Lambert-Gorwyn says. "I am a vegetarian and have recently made the decision to stop buying leather. . . . I would love in the future to work for an ethical company, and this competition seemed like a great stepping stone and a fantastic platform to raise awareness of such an important issue."
Beyond Skin is committed to helping animals and the environment by using only animal-free, recyclable materials in its products. Millions of cows and other animals whose skin is turned into leather endure the horrors of factory farming, including extreme crowding and confinement, disease and deprivation of food and water. Branding, tail-docking, dehorning and castration are all often performed without any painkillers. At abattoirs, improper stunning means that many animals are skinned while they're still conscious.
Turning animal skin into leather requires highly toxic mineral salts, formaldehyde, coal-tar derivatives and various oils, dyes and finishes – some of which are cyanide-based. Tannery runoff contains large amounts of pollutants, such as salt, lime sludge, sulphides and acids. Animals on factory farms produce 130 times as much excrement as the entire human population – without the benefit of waste-treatment plants.
More and more designers and retailers – including Stella McCartney, Vivienne Westwood, Esprit, Topshop and H&M – are recognising the huge demand for animal-friendly fashions and offering their customers shoes, bags, purses and belts made from modern, high-quality synthetics which don't harm the Earth or a hair on an animal's head.
Whitmore awarded second place to 32-year-old freelance shoe designer Stefanie Nuyts of Antwerp, Belgium, for a design she described as "quirky", adding, "I love the concept".