American actress, Lori Singer, teams up with Cruelty Free International to campaign for a United States ban on animal tests for cosmetics.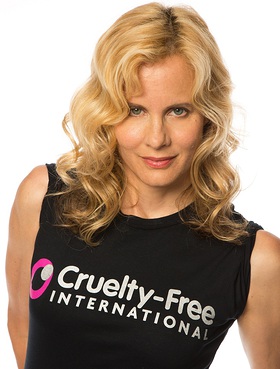 Lori Singer stated: 'I'm behind the work of Cruelty Free International to ensure that animals don't suffer for our cosmetics.'
Singer join other compassionate celebrities, such as Sir Paul McCartney, Ricky Gervais, Norman Reedus, Peter Dinklage, and Joss Stone, together with cruelty-free cosmetic companies and Cruelty Free International to put the issue of cosmetics testing on animals at the forefront for consumers and policy makers around the world.
In March 2013, animal tests were banned for new cosmetics sold in the European Union; the most rigorous far-reaching animal testing ban in the world. This historic milestone was achieved after over twenty years of campaigning by Cruelty Free International's founding organization, the BUAV. Countries around the world are following suit – Israel has a ban on animal tests for cosmetics and India is likely to shortly set down rules banning this practice. Yet, despite, the availability of humane non-animal tests, the US continues to allow cruel animal tests for make-up, shampoo, toothpaste and other cosmetics.
Cruelty Free International US Campaign Manager, Monica Engebretson, stated: 'We are thrilled to have the support of Lori Singer. We urge the US to follow Europe's lead and end the cruel and outdated use of animals in cosmetics testing. Please take action by supporting Cruelty Free International.'
Countless animals suffer each year in unnecessary outdated and cruel tests for the cosmetics we use. Visit www.crueltyfreeinternational.org to see what you can do to help animals.