Shriners Hospitals for Children is pleased to announce former patient and award-winning actor RJ Mitte as a national Love to the rescue Ambassador for their 2014 Love to the rescue campaign.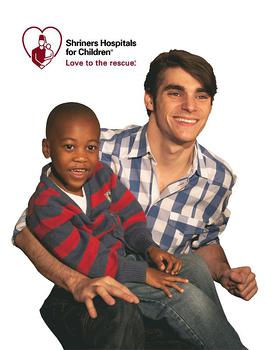 Mitte will share his personal story of receiving both treatment for cerebral palsy and encouragement to accept no limits to living with a disability through a series of Public Service Announcements and other appearances through the year.
This February, RJ Mitte invites the public to join him and send their Love to the rescue to the children by making a donation to Shriners Hospitals for Children at www.lovetotherescue.org. Supporters can also post a Valentine's Day note to the Wall of Love that will be shared with the patients at Shriners Hospitals for Children.
At the age of 3, Mitte was diagnosed with cerebral palsy, a neurological condition affecting muscle tone, movement and coordination. He was referred to the Shriners Hospital for Children in Shreveport, LA, when he was noticed walking on his toes. To correct his walking, the orthopaedic experts at Shriners Hospitals for Children recommended a casting procedure instead of an invasive surgery, which had been recommended by other doctors. Mitte was treated by the medical experts and physical therapy specialists at Shriners Hospitals for Children for most of his childhood, and, as a result, overcame many of the physical and verbal effects of cerebral palsy.
"I can't thank Shriners Hospitals for Children enough for what they did to help me overcome the effects of cerebral palsy. Had it not been for my doctors and therapists, I would not be walking and talking as well as I am today, " said RJ Mitte. "I know first-hand that Shriners Hospitals for Children is a special place where kids are given a life of possibilities because they send Love to the rescue every day. "
Mitte recently visited Shriners Hospitals for Children – Los Angeles to meet patients and to talk about the bond and support shared between children living with disabilities.
"We are honored to help RJ share his story so others living with disabilities see that there really are endless possibilities to what they can achieve," said John Cinotto, Chairman of the Board of Directors of Shriners Hospitals for Children. "Every day Shriners Hospitals for Children sends Love to the rescue by encouraging patients to accept no limits throughout their treatment process. Working with RJ will help us highlight the innovative pediatric care available at Shriners Hospitals for Children."
Source: PR Newswire