Richard Branson was among the first people to tag a shark in the British Virgin Islands last week in an effort to help species conservation.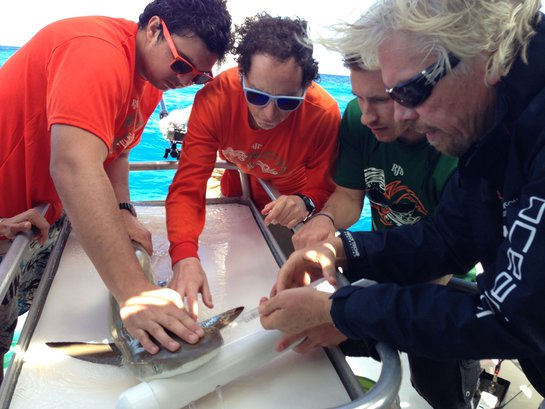 "Dr Neil Hammerschlag, who runs the shark research program at the University of Miami's Dunlap Marine Conservation Program, brought his wonderful team of shark experts over to the BVI for a special scientific expedition onto the ocean," blogged Branson. "They have taken more than 1600 youths out shark tagging to rekindle interest in species conservation and the wonder of sharks.
"After an hour we hadn't been lucky enough to find a shark, though a few lines had been bitten. Finally, on the very last buoy, we found a shark. We got him on board to discover a Caribbean Reef Shark, just over one metre long.
"We sprung into action, taking blood and tissue samples, and yours truly was given the honour of actually tagging the shark. The health of the shark is paramount, and Dr Neil's team do an incredible job keeping them in great condition, extremely calm, and back in the water remarkably quickly.
"It was really encouraging to see a juvenile shark, probably less than two years old. This is a potential nursery ground for sharks, making it even more important that they and their habitat are protected.
"These aren't ecotourism trips, they are serious science, and they gather an extraordinary amount of data on the sharks. This wasn't a flash in the pan trip, it is just a reconnaissance mission for Dr Neil and his brilliant team; they will be back to do long-term monitoring of the BVI sharks.
"If you want to find out more, head over to sharktagging.com, where you can track the whereabouts of the sharks and learn all about them.
"Hopefully the project will raise awareness about the need to protect sharks, so future generations can enjoy these magnificent species too."
Source: virgin.com