Upcoming 18yo star South African cyclist and sprint champion of last year's Cape Rouleur, Nicholas Dlamini is to ride 2014 Cape Rouleur from 2-6 March as an Ambassador for the Elton John AIDS Foundation.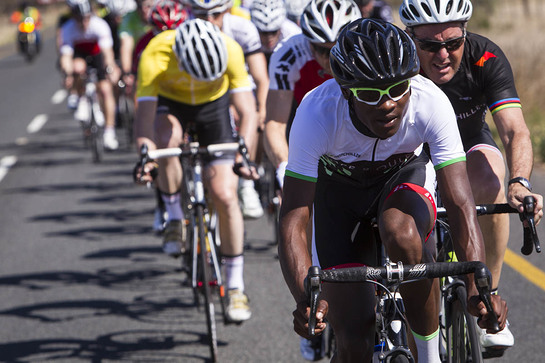 Dlamini has proved himself a talented cyclist and was crowned the winner of the Amateur Green 36One Sprinter's Jersey during the 2013 Cape Rouleur (part of the HotChillee Global Event Series) with Ride Magazine flagging him as a 'name to watch'. Growing up in Khayelitsha and Capricorn Park in Cape Town, riding for the Foundation in this year's Cape Rouleur has added significance.
"Growing up in and around Khayelitsha, I understand the damage that HIV has done to families, neighbourhoods and the country as a whole. I am excited and proud that my passion for cycling can help raise funds and awareness to fight HIV in my country. I'm looking forward to riding with the guys from UBS, and am delighted to be of help to the Elton John AIDS Foundation, that has done so much to fight HIV around the world", says Nicholas Dlamini.
The Elton John AIDS Foundation has given over ZAR196 million (GBP£16 million) to 197 projects throughout South Africa including since 1993 reaching over two million people living with and affected by HIV/AIDS. The Foundation continues to work extensively in and around the areas where Nicholas grew up.
The charity's Founder, Sir Elton John, commented 'At my Foundation, we are passionate about helping to create an AIDS-free future for South Africa's youth, so it's fantastic to have such an inspirational young man as Nicholas joining forces with us. He understands that lifelong commitment is essential in realising your dreams. This kind of commitment is what will save lives in South Africa. On behalf of all of us at the Foundation, I want to wish Nicholas and his team every success for the Cape Rouleur.'
"Nicholas is one of a range of new Ambassadors for the Foundation" commented Anne Aslett, Executive Director of the Elton John AIDS Foundation. "These are champions who are using their personal passion and skill to raise awareness and funds for our work and, ultimately, for an AIDS-free future". In his capacity as Ambassador, Nicholas will head a team of cyclists from UBS who are also riding to support the charity.
Nicholas will head a team of cyclists from UBS who are also riding to support the charity.
Sean Bennett, CEO of UBS South Africa and Head of UBS Sub-Saharan Africa, who will be part of the UBS team for the Cape Rouleur commented "At UBS, we are excited to be part of this superb race in support of the Elton John AIDS Foundation. It will be an immense physical challenge for me personally and I am inspired by the dedication and talent of Nicholas as well as the enthusiasm of my fellow team mates. UBS is delighted to be partnering with the Elton John AIDS Foundation which has done such great work on the African continent, particularly in South Africa. "
The 2014 Cape Rouleur is full week of cycling, comprising a prologue and three stages of the Cape Rouleur, a 112km Festival ride into Cape Town and ends with the Cape Argus Pick n Pay Momentum Cycle Tour.
To support Nicholas and the EJAF/UBS team with a donation to the Elton John AIDS Foundation, go to www.ejaf.com.