Having just released his chart-topping new album G I R L this week, and with the single, "Happy" (from Despicable Me 2), breaking sales and chart records around the world, Pharrell Williams has announced a partnership with the United Nations Foundation to celebrate the annual global International Day of Happiness, Thursday, March 20.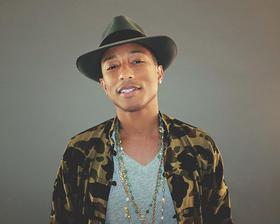 In addition to a 24-hour event on YouTube, Pharrell invites people everywhere to take action and help raise money for humanitarian efforts around the globe.
Drawing inspiration from the "Happy" videos fans worldwide have already posted, starting today, March 10, Pharrell encourages all his fans to post YouTube videos of themselves demonstrating their happiness to his global #1 smash hit "Happy" with the hashtag #HAPPYDAY and then register their submission at 24HoursOfHappiness.com.
At noon on March 20 in each time zone, Pharrell will spotlight the best submissions on the site. Fans are also encouraged to use #HAPPYDAY throughout all social networks.
As part of this global digital engagement, people will be reminded that everyone deserves a chance at a happy, healthy life, and encouraged to make donations to support UN humanitarian efforts designed to increase those opportunities for the people who need it most.
Ways To Participate:
• Post dance mob videos on your Youtube channel tagging them with #HAPPYDAY
• Post Facebook, G+, Tumblr or Instagram photos/videos using the hashtag #HAPPYDAY
• Tweet/Vine messages using the hashtag #HAPPYDAY
• Post "Happy" covers on your YouTube Channel tagging them with #HAPPYDAY
• Play "Happy" on the air and give a shout out to CERF
• Share "Happy" Spotify and Google Play playlists on G+, Facebook, Twitter and/or Tumblr using the hashtag #HAPPYDAY
Fresh off his show-stopping performance at Sunday's Academy Awards, where he performed his Oscar-nominated hit "Happy" and danced with some of Hollywood's leading ladies, Pharrell released his new album G I R L on Monday, March 3 to worldwide acclaim. The album quickly reached #1 in more than 75 countries. "Happy," which was first featured on Despicable Me 2 (Original Motion Picture Soundtrack), remains an international phenomenon; in the U.S., the song tops Billboard's Hot 100 chart for a second consecutive week, tops Billboard's Digital Songs chart for a third consecutive week, and becomes #1 this week on Billboard's Radio Songs chart. In addition, "Happy" continues its reign at #1 on iTunes in the U.S.; the song has topped the iTunes chart in more than 90 countries. And at Spotify, G I R L is the #1 album in the world. Purchase G I R L here.
Source: United Nations Foundation