Save the Children announced today that Jennifer Garner has joined the global non-profit's board of trustees, deepening her commitment to issues affecting children in America and around the world.
Committed to a six-year term as one of 30 members of the organization's board, Garner joins the likes of former ABC News president David Westin, former chairman of the Xerox Corporation Anne Mulcahy and ABC News political commentator Cokie Roberts.
As Artist Ambassador, Garner brought Save the Children's early childhood development and literacy programs to her home state, West Virginia, where more than a quarter of children live below the poverty line. She has advocated on Capitol Hill on behalf of the organization and traveled to California's Central Valley, Kentucky and West Virginia to see the effects of poverty first-hand.
"In my new role with Save the Children, I hope to make an even bigger difference in the lives of children right here in America and around the world," said Garner, who was born in Houston, Texas, raised in Charleston, W. Va., and currently resides in Los Angeles, Calif., with her family. "All children, whether they are born into poverty or affluence, have the right to grow up healthy, learn and make something of their lives."
"Jennifer Garner brings not only star power but also a wealth of knowledge, experience and unmatched compassion to our organization," said Carolyn Miles, president and CEO of Save the Children. "She is an avid advocate for early childhood education programs in the United States and we look forward to expanding her role within our organization."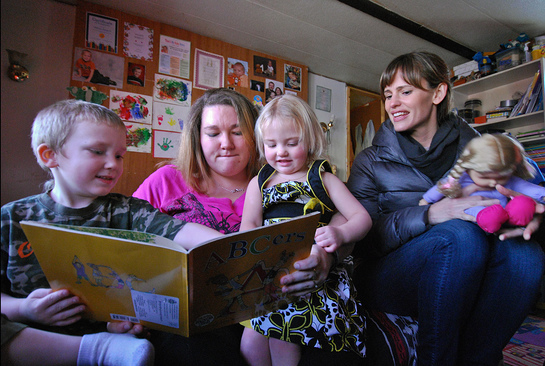 The Sargent family participates in Save the Children's Early Steps to School Success program. Save the Children staff visit moms and young children at home and coach them on activities to help kids grow and learn in the early years.