An accomplished actress, business woman, philanthropist and New York Times best-selling author (of memoir The Real Girl Next Door), Denise Richards is joining in Best Friends Animal Society's efforts to end the killing of dogs and cats in our nation's shelters.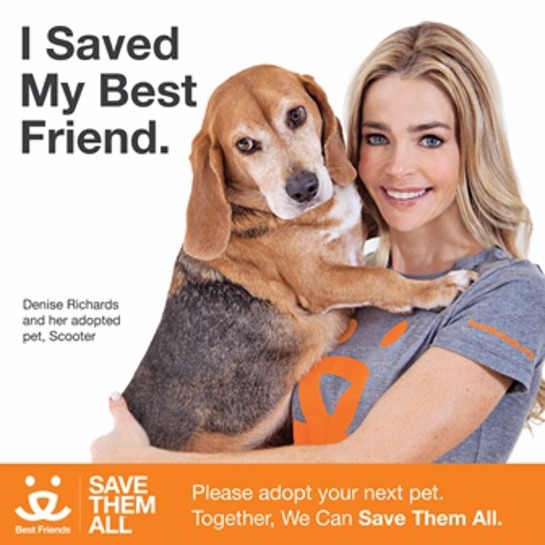 Richards joins actor Danny Trejo, Carrie Ann Inaba and other celebrities who will be featured in Best Friends' photo campaign featuring celebrities posed with their personal rescued dogs and/or cats in support of the Save Them All call to action.
According to national statistics, each day more than 9,000 dogs and cats die in the nation's shelters. Best Friends has brought increased awareness to how people can get involved in the solution by adopting, and spaying/neutering their pets, donating, volunteering and sharing this message with their friends.
"I've been involved with Best Friends Animal Society since 2009 and I've seen firsthand the differences they've made and the countless lives they've saved," Richards said. "From their Pup My Ride program, which transports small dogs from Los Angeles kill shelters to cities around the country where there are forever homes waiting for them, to the Super Adoption events and Strut Your Mutt fundraising walks, Best Friends is taking the lead in the no-kill movement. Having proudly rescued several dogs and cats myself, I'm thrilled to work with Best Friends to promote the adoption of shelter pets and I believe that by working together we can Save Them All."
Robin Harmon, Best Friends coordinator for the Pup My Ride program said Richards is not afraid to her hands dirty on behalf of animals in need. "My favorite memory of Denise is her comforting and befriending scared or hurt animals during Pup My Ride days. I'm especially impressed by the un-weaned kitten litters she has taken home to foster; she made it a family affair with her two older daughters sharing in the bottle-feeding duties. There were also several dogs that needed extensive medical help or surgery that Denise took home, paid for everything, took care of them while they were recuperating and then ended up adopting."

Richards can currently be seen in ABC Family's drama "Twisted" as Karen Ryder; the show is in its second season and centers on a teen with a troubled past who recently reconnects with his two female best friends from childhood. "Twisted" spring finale airs Tuesday, April 1 at 9 p.m. Pacific/8 p.m. Central.
Richards and her children share their home with multiple rescued animals including Scooter who is featured in the campaign photo.