British Prime Minister David Cameron has today made a commitment to an Animal Defenders International (ADI) deputation to Downing Street that he will ban wild animal circuses.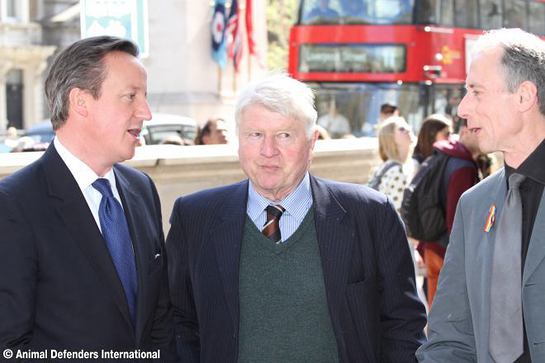 Former MEP Stanley Johnson and social justice campaigner Peter Tatchell asked Prime Minister David Cameron to rapidly bring forward the Government's draft bill that will ban wild animals from circuses.
Prime Minister David Cameron replied "Yes, we are going to do it."
Social justice campaigner Peter Tatchell: "It is great that David Cameron told Stanley and me today that he will ban wild animals in circuses. Let's hold him to it. Circuses deny animals their freedom and suppress their natural, wild nature through confinement, tethering and subjugation. It is wrong for circuses to subject wild animals to such physical and mental suffering. That's why I am supporting Animal Defenders International's campaign calling on the Government to urgently legislate a ban on the use of wild animals in circuses."
Former Conservative MEP, author, and conservationist Stanley Johnson: "I am very much hoping that this legislation to ban wild animals in circuses will appear in the Queen's speech and no further delay will be experienced. Circuses that persist in using wild animals undermine conservation efforts by demeaning animals and presenting them as playthings. These animals belong in their natural wild habitat, not the circus. I applaud Animal Defenders International on its work to stop circus suffering and urge the Government to join the growing number of countries that have banned wild animal acts."
ADI Chief Executive, Jan Creamer, "We are delighted that David Cameron has promised the ADI deputation that he will bring forward the ban on wild animals. So many celebrities and politicians have joined ADI to call on the Government to implement its promised ban on wild animals in circuses. After a 20 year wait the public wants to see this done and if the Government fails to deliver on this promise, it will be directly responsible for continued animal suffering."
The elephant-shaped letter calling on Prime Minister David Cameron to speed along plans to ban circuses using wild animals has been signed by celebrities including Eddie Izzard, Julian Clary, Moby, Michaela Strachan, Brian Blessed and famous graduates of David Cameron's former school, Eton; actor Dominic West and sustainable investment leader Ben Goldsmith.
The delay in bringing in the ban has seen the return of big cats to the UK – a lion and tiger act presented by Thomas Chipperfield, a relative of the notorious Mary Chipperfield, who was prosecuted for animal cruelty following an ADI exposé in the late 1990s, is now performing with Jolly's Circus, one of only two circuses still to perform with wild animals in England, and the only act of its kind in the country.
Following ADI's shocking revelations of the brutal violence and constant chaining of Anne the elephant at the Bobby Roberts Super Circus – whose owner was found guilty of offences under the Animal Welfare Act – the Government announced its intention to ban wild animals in circuses "at the earliest opportunity".
A draft Bill was published last March, however little progress has been made since then. ADI has raised concerns that unless the ban is urgently progressed, its implementation date of December 2015 may be missed, resulting in the continued suffering of animals. ADI has raised further concerns that the draft Bill allows a loophole that could mean wild animals continue to tour with circuses.
Over 200 local authorities in the UK have bans on the use of animals in circuses in place. Scotland is currently consulting the public on the issue and the Welsh Assembly has pledged its support for a ban. Ministers from Northern Ireland and the Republic of Ireland have indicated that they will "investigate the possibility of an 'all-island approach' to the issue of wild animals travelling in circuses".
25 countries worldwide have placed national restrictions on the use of animals in circuses, with several others under discussion.
Public support for a ban on the use of wild animals in circuses has been consistently high for 15 years. A 2010 Defra consultation showed a resounding 94% of the British public support a ban on wild animal acts. In 2011, 63% of MPs agreed that the Government should ban the use of wild animals in circuses.