athenahealth, Inc., a leading provider of cloud-based services for electronic health record (EHR), practice management, and care coordination, today announced Christy Turlington Burns, founder of Every Mother Counts (EMC), and Allen L. Gee, M.D., Ph.D., FAAN of Frontier Neurosciences as its 2014 Vision Award winners.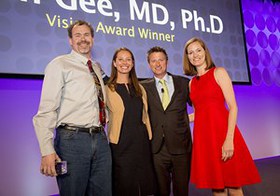 The Vision Award, which was established by athenahealth as part of its annual User Conference, recognizes individuals and organizations that embody and extend the company's goal to make health care work as it should. Past winners include St. Boniface Haiti Foundation, Dr. Abraham Verghese, and Dr. Atul Gawande.
athenahealth honored Christy Turlington Burns, recently named to TIME's "The 100 Most Influential People," for her awareness and advocacy work to overcome the barriers to maternal health and education around the world and in the United States. In her role as a global maternal health advocate, Turlington Burns directed and produced "No Woman, No Cry" in 2010, a documentary film about the global state of maternal health. Thereafter, Turlington Burns founded Every Mother Counts, a non-profit organization dedicated to making pregnancy and childbirth safe for every mother. The organization informs, engages, and mobilizes new audiences to take actions and raise funds that support maternal health programs around the world.
"It is humbling to be honored by athenahealth for the work we are doing at Every Mother Counts. We are committed to raising awareness and motivating people to get involved in breaking down the barriers to maternal health around the globe," said Turlington Burns. "All women have a right to basic care, and we will continue to fight to make pregnancy and childbirth safe so all mothers can make a positive impact on their families, the community, and the world."
Jonathan Bush, chairman and CEO, athenahealth, said, "As an organization founded as a birthing clinic, athenahealth finds Christy's dedicated work as an advocate for global maternal health especially inspiring and meaningful. We are humbled by her selflessness and admire her work to drive real impact on care both in developing countries and here at home. She is a true champion of health care, and we are thrilled to be able to honor her impact with our fourth annual Vision Award."
athenahealth also honored Dr. Allen Gee, a neurologist, of Frontier Neurosciences in Cody, Wyoming, for his efforts to deliver better patient care through the use of innovative telemedicine technology. Leveraging this novel technology, Dr. Gee has created a virtual practice that eliminates geographical barriers in his rural region, while bringing high quality care to patients in need of neurological care across the state of Wyoming.
"Dr. Gee's work is truly inspiring; he is putting technology to work for patients across the state of Wyoming, reducing time and expense for patients so they can get the care they need, when they need it," said Bush. "His forward-thinking model and commitment to providing a personal, impactful patient experience embodies our vision to make health care work as it should."
Dr. Gee was selected by his peers and the external community for the 2014 Vision Award recognizing an outstanding client practice or staff member who embodies athenahealth's vision. Other nominees recognized for their work were The San Antonio Orthopaedic Group and Christus Provider Network. Videos sharing each nominee's story can be viewed here.