A Window Between Worlds (AWBW) presented Art in the Afternoon, the organization's 12th annual family-fun festival to benefit their healing art programs for women and children survivors of domestic violence, May 4th at the Venice Skills Center in Venice, CA.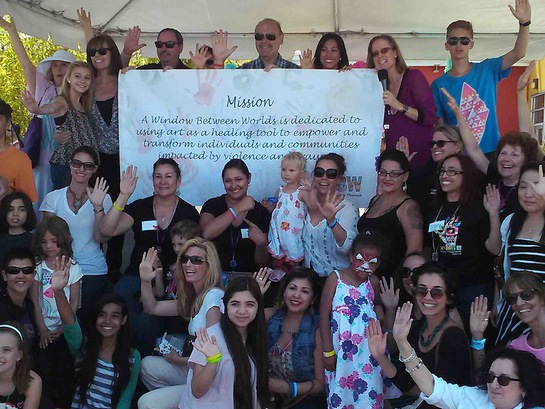 This year's event theme, "stepping into a new tomorrow," speaks to the growth of the organization as it's called upon to meet an increasing demand for its programs to serve new populations beyond the shelter setting. Founder and Executive Director, Cathy Salser, announced the next phase of AWBW's community impact at the event.
G. Hannelius, star of The Disney Channel's "Dog with a Blog" returned as Art in the Afternoon Host for her fifth year, and was joined by the entire cast of "Dog with a Blog," as well as stars from Disney Channel's "Jessie" and "Kickin' It." The event featured autograph signings and a chance to enter a Hula Hoop Contest with G Hannelius and her co-star, Francesca Capaldi!
Additional activities included signature AWBW art workshops, an In-N-Out Cookout, Aquarium of the Pacific on Wheels, Panda Express, games and prizes, Hansen's Cakes, musical performances, and live and silent auctions.
Since 1991, A Window Between Worlds has provided art as a healing and empowering tool for individuals living in domestic violence shelters to rebuild their lives and end the cycle of violence. Art offers a window to a new world in which violence, shame and silence are replaced by safety, healing and hope. For the participants in the workshops, art acts as a reminder of the power they have to create change for themselves and their communities. In 2013, AWBW reached over 19,000 women and children at 296 sites throughout Los Angeles and 28 states nationwide. A ten-year-old child recently shared during an AWBW art workshop, "My artwork makes me think, feel and smile through my pain. Art is art. It's never wrong. That's what I love about it."
Auction Donors Included: Universal Studios Hollywood, Color Me Mine, Trapeze School New York; Los Angeles, 220 Fitness, Hoop It Up Kids, Los Angeles Dodgers, and many more!
Event Sponsors: In-N-Out Burger, Aquarium of the Pacific, Panda Express, Hansen's Cakes, NBC/ Universal, Google, Whole Foods, Acure Organics, Panda Express, Sprinkles Cupcakes, The Art Institute of California – Los Angeles.
For more information on Art in the Afternoon or A Window Between Worlds,
please visit www.awbw.org, call 310.396.0317 or email events@awbw.org