On Friday, May 5th, Multiple Sclerosis (MS) advocate and Center Without Walls founder, Nancy Davis, welcomed guests to the Beverly Hilton for the 24th Annual Race To Erase MS Gala.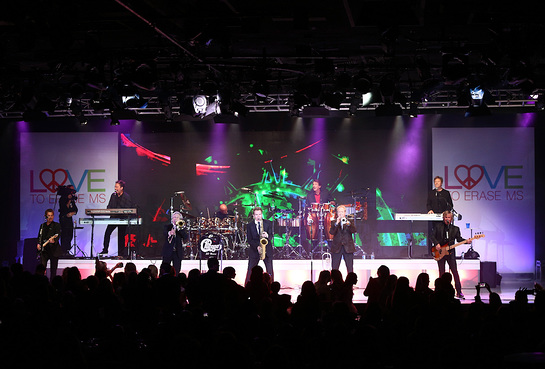 The event raised $1.6 million to benefit the Race to Erase MS and its Center Without Walls program, a collaboration of top MS research centers working together as a team on ground-breaking research with the goal of treating and, ultimately, finding a cure for MS.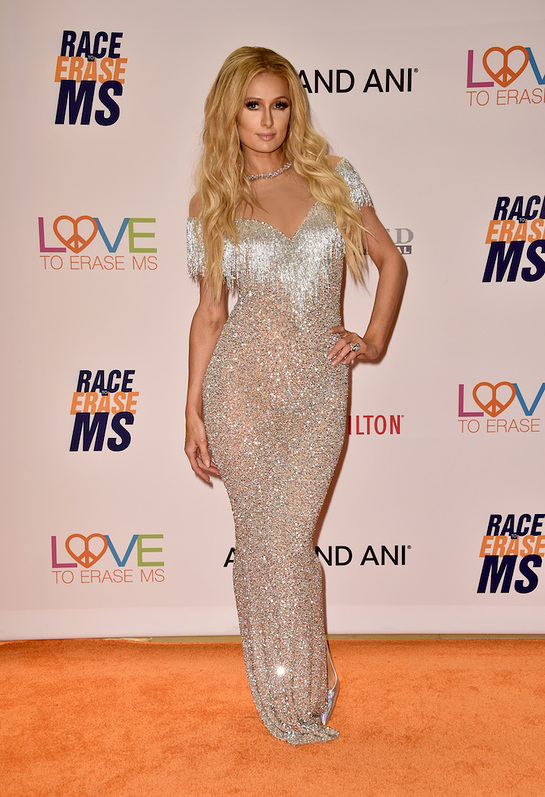 Guests at this year's event included host Nancy Davis, honoree Jamie-Lynn Sigler, musical performers Chicago and Siedah Garrett, musical director David Foster, and special presenters for the evening Lance Bass, Kathy Griffin, Randy Jackson, and Quincy Jones. Additional guests included Byron Allen, Lindsay Arnold, Phillip Bloch, Trevis Brendmoe, Wendy Burch, Sharna Burgess, Francesca Capaldi, Maksim Chmerkovskiy and Peta Murgatroyd, Emmanuelle Chriqui and Adrian Bellani, Christian Collins, Crawford Collins, Kirsten Collins, Barbara Davis, Brandon Davis, Jason Davis, Christine Devine, Heather and Terry Dubrow, Haylie Duff, Carmen Electra, David Faustino, Mayte Garcia, Teri Garr, Camille Grammer, Lizzy Greene, Max Greenfield, Amelia Hamlin, Delilah Hamlin, Harry Hamlin and Lisa Rinna, Marg Helgenberger, Robert Herjavec and Kym Johnson, Elizabeth Hilfiger, Tommy Hilfiger and Dee Ocleppo, Kathy and Rick Hilton, Paris Hilton and Chris Zylka, Jessica Holmes, Shawn Hook, Inas X, Skai Jackson, Kris Jenner, Jenna Johnson, Cobi Jones, Olivia Rose Keegan, Jessica Lowndes, Camilla Luddington, Diana Madison, Adrienne Maloof, Maureen McCormick, Steven McQueen, Aly Michalka, Heather Morris, Keo Motsepe, Megan Nicole, David Osmond, Naya Rivera, Shaun Robinson, Olivia Sanabia, Gleb Savchenko, Terri Seymour, Johnathon Schaech, Skylar Stecker, Wesley Stromberg, JoAnna Garcia Swisher, Jessica Szohr and Scotty McKnight, Lea Thompson, Bruno Tonioli, Pia Toscano, Anna Trebunskaya, Nick Viall and Vanessa Grimaldi, Sammy Wilkinson, Dave Winfield, Ian Ziering, and many more.
Kathy Griffin took to the stage to kick off the evening's festivities, introducing host and organization founder Nancy Davis. Nancy Davis then welcomed guests to the 24th edition of the star-studded gala, and talked about an exciting new development in the MS community, the FDA approval of the newest treatment option for MS called OCREVUS. She spoke about the incredible impact of this drug, and the potential it has to improve the lives of those suffering from multiple sclerosis. She also explained that, through events like this one, Race to Erase MS is able to help fund research that can lead to these kinds of developments. Davis thanked guests for their continued support over the years, noting that none of this would be possible without the people in this room. She also thanked singer-songwriter Siedah Garrett for being there to debut her new single "Carry On," proceeds from which benefit The Race to Erase MS. Davis then spoke about this year's honoree, Jamie-Lynn Sigler, and the incredible impact she has had on the MS community by bravely sharing her diagnosis, and helping to bring awareness to the cause.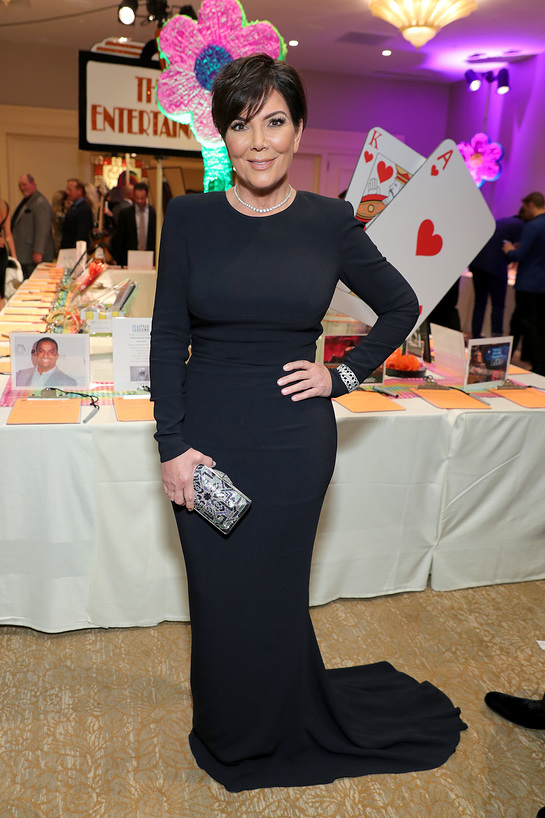 Lance Bass stepped onstage to present his good friend Jamie-Lynn Sigler with the 2017 Medal of Hope Award. Before bringing Sigler onstage, Bass introduced a moving video montage that included sentiments recorded by friends including Lea Michele, JoAnna Garcia Swisher, Emmanuelle Chriqui, and more. After watching the tribute video, Sigler gave an emotional and inspiring speech, touching on the struggles she has encountered while living with MS, and relaying her hope for the future.
Quincy Jones introduced the first performer of the evening, singer-songwriter Siedah Garrett, who was there to debut her single "Carry On," which she wrote after meeting Nancy Davis at Quincy Jones' house, and being inspired to do what she could to help Davis' cause. Garrett took a moment to share something that she had not made public yet, announcing that she had been diagnosed with multiple sclerosis five years ago. After bravely sharing her diagnosis with the crowd, she sang the hit song she co-wrote for Michael Jackson, "Man in the Mirror," and for the first time ever debuted her single "Carry On" live with David Foster, Shawn Hook, Olivia Keegan, David Osmond, and Trevis Brendmoe.
Randy Jackson introduced legendary rock band Chicago who brought down the house with a nine-song set that included hits "If You Leave Me Now," "Does Anybody Really Know What Time It Is?" "Just You 'n' Me," "Make Me Smile," "You're the Inspiration," "Hard to Say I'm Sorry," "Saturday in the Park," "Feelin' Stronger Every Day," and "25 or 6 to 4."
In what has become a Race to Erase MS tradition over the past 24 years, an uplifting rendition of "Lean On Me," was performed as the finale of the evening, led by Chicago and David Foster, who were joined on stage by Nancy Davis, Randy Jackson, Lance Bass, Trevis Brendmoe, Siedah Garrett, Shawn Hook, Olivia Keegan, David Osmond, Wesley Stromberg, and more.
The 24th Annual Race to Erase MS Gala included a live auction, which was introduced by Randy Jackson. Lucky bidders walked away with items including a tropical trip for two to the Maldives with business-class flights and luxury accommodations included, a private interview experience with legendary television host Larry King, and a five-day vacation to the Bahamas aboard a private yacht. The big item of the night was a bespoke Aston Martin DB11 Coupe custom build by the brand's Q by Aston Martin division, which went for an incredible $290,000.
The Race to Erase MS Gala was generously sponsored by ALEX AND ANI Charity by Design, Aston Martin, The Beverly Hilton, and Associated Television International, with support from Evine, Mark's Garden, Foley Family Wines, Svedka, Neo Water, and Bodvar House of Rosés.
Race to Erase MS is dedicated to the treatment and ultimate cure for MS. Funding research is the core focus of the foundation and significant strides have been made to find the cause and cure of this debilitating disease. At the event's inception 24 years ago, the absence of medications and therapies encouraged its involvement; the Race has been instrumental in funding many pilot studies that have contributed to drugs now on the market and other very important therapies that are improving the lives of people suffering from MS.
All funds raised support the Center Without Walls program, a unique collaboration of the world's leading MS research scientists currently representing Harvard, Yale, Cedars Sinai, University of Southern California, Oregon Health Science University, UC San Francisco and Johns Hopkins. This nationwide collaboration of physicians, scientists and clinicians are on the cutting-edge of innovative research and therapeutic approaches to treat MS. It is the hope of the Race to Erase MS that in addition to combating MS through research in a clinical environment, awareness will be created by educating the public about this mysterious disease.