On Friday, May 10, Multiple Sclerosis (MS) advocate and Center Without Walls founder, Nancy Davis, welcomed guests to the Beverly Hilton for its 26th Annual Race to Erase MS Gala.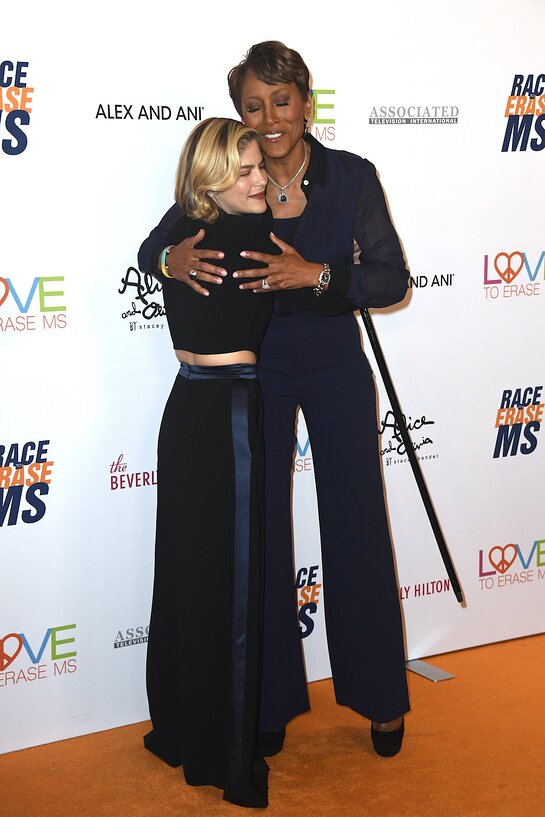 The event raised over $1.8 million to benefit the Race to Erase MS and its Center Without Walls program, a collaboration of top MS research centers working together as a team on ground-breaking research with the goal of treating and, ultimately, finding a cure for MS. The event honored actress Selma Blair for her bravery and strength demonstrated during her personal battle with MS, as well as the Hausman Family Foundation, for its incredible and most generous support of Race to Erase MS.
Guests at this year's event included Race to Erase MS Founder Nancy Davis, honoree Selma Blair, honorees The Hausman Family, performers Aloe Blacc and Flo Rida, musical producer David Foster, presenters Johnny Galecki, Sarah Michelle Gellar, Dorothy Lucey, Jack Osbourne, Robin Roberts, special guests Kris Jenner, Tommy Hilfiger, LaToya Jackson, Avril Lavigne, Steven McQueen, Harry Hamlin, Jamie-Lynn Sigler, Rumer Willis, Vanna White, Constance Zimmer, Frances Fisher, Byron Allen, Adán Allende, Mari Mediavilla and Fernando Allende, Loni Anderson, Garcelle Beauvais, Michael Campion, Francesca Capaldi, Tia Carrere, Maksim Chmerkovsky, Tommy Chong, Ava Dash, Christine Devine, Lilac Emery-Haynes, Nicole Williams and Larry English, Luca Bella Facinelli, Peter Facinelli, David Faustino, Jessica Marie Garcia, Camille Grammer, Mason Grammer, Lizzy Greene, Delilah Belle Hamlin, Melora Hardin, Bella Harris, Jessica Hart, Tessa Hilton, Jimmy Jam, Angelina Jordan, Keltie Knight, James Lastovic, Javicia Leslie, Chloe Lukasiak, Julio Macias, Sunny Malouf, Sophie Mazzaro, Rachel McCord, Esther McGregor, Charlotte McKinney, Marta Pozzan, Katee Sackhoff, Olivia Sanabia, Barry Sloane, Karina Smirnoff, Elizabeth Stanton, Larsen Thompson, Lea Thompson, Garrett Wareing, Diane Warren, Nala Wayans, Dave Winfield, and more!
The evening began with a special runway show from Hollywood-favorite fashion brand alice + olivia by Stacey Bendet. The looks were showcased by a variety of models and actors, including Delilah Belle Hamlin, Luca Bella Facinelli, Lilac Emery-Haynes and Mason Grammer. Race to Erase MS founder Nancy Davis took the stage next, thanking guests for being in the room to celebrate the 26th Annual Gala. She spoke of the incredible accomplishments of the organization over the past several years, including raising over $48 million for Race to Erase MS and its Center Without Walls program.
The luxurious live auction returned this year and featured one-of-a-kind opportunities and collector's items including a skip trip at The Little Nell in Aspen Colorado, a once-in-a-lifetime chance to tour Abbey Road Studios (sold to Tommy Hilfiger!), and a Bahamas vacation aboard an Illusions yacht. The big item of the night was a Vanderhall Motor Works Venice GT Auto-Cycle, a classically redefined demonstration of art on wheels.
The first performer of the evening, Aloe Blacc, was introduced by David Foster and Jack Osbourne, who himself was diagnosed with MS in 2012. Blacc sang "The Man," and "Candyman," and closed his set with a beautiful rendition of Avicii's "Wake Me Up."
David Foster also introduced the night's headliner, music superstar Flo Rida, who brought down the house with a twelve song set that included hits "Right Round," "My House," and "Wild Ones."
In what has become a Race to Erase MS tradition over the past 26 years, an uplifting rendition of "Lean On Me," was performed as the finale of the evening, led by Foster with help from Angelina Jordan, Adán Allende, Fernando Allende, and so many more of the night's special guests!
Race to Erase MS was founded in 1993 by Nancy Davis and is dedicated to the treatment and ultimate cure of Multiple Sclerosis. All funds raised by the organization, through its iconic galas and year-round initiatives, support the "Center Without Walls" program, a unique collaboration of the world's leading MS research scientists currently representing Harvard, Yale, Cedars Sinai, University of Southern California, Oregon Health Science University, UC San Francisco, Johns Hopkins and UCLA.
Davis also created the annual "Orange You Happy to Erase MS" campaign, which takes place for the entire month of May (MS Awareness Month) and adds yet another branch of fundraising for MS research. Throughout the month, a variety of orange products, many of which are specially created for this initiative, are sold to benefit the cause and elevate public awareness about MS. Orange T-shirts with symbolic messaging are created annually and in recent years, modeled by longtime supporter Sharon Osbourne. For the 2019 campaign, they will be joined by Jack Osbourne, an MS survivor himself. Among the partners is ALEX AND ANI, a company that has been a loyal partner to Race to Erase MS since 2012. They created a unique Cupcake Charm Bangle and donated twenty percent of its proceeds to Race to Erase MS. This effort alone has raised over $1 million for multiple sclerosis research.
Race to Erase MS also continued its partnership with Evine, an interactive digital retailer, and once again give guests the opportunity to bid on a first-class trip to their national headquarters where they'll experience the magic behind the television camera and see how products are brought to life on air.