On Friday, April 20, Multiple Sclerosis (MS) advocate and Center Without Walls founder, Nancy Davis, welcomed guests to the Beverly Hilton for its historic 25th Anniversary Race to Erase MS Gala.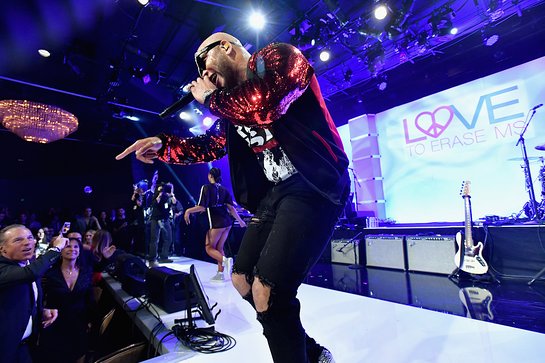 The event raised over $1.6 million to benefit the Race to Erase MS and its Center Without Walls program, a collaboration of top MS research centers working together as a team on ground-breaking research with the goal of treating and, ultimately, finding a cure for MS.
Guests at this year's event included Race to Erase MS Founder Nancy Davis, host Scott Rogowsky, Performers Flo Rida, Elle King, and Siedah Garrett, Musical Director Greg Phillinganes, and additional special guests including Ajiona Alexus, Byron Allen, A.R.T., Lance Bass, Talitha Bateman, Allison Baver, Stacey Bendet, Phillip Bloch, Katrina Bowden, Miles Brown, Logan Browning, Cheryl Burke & Matthew Lawrence, Terry Butler, Francesca Capaldi, Crawford Collins, Joan Collins, Karisma Collins, Kirsten Collins, Lisa Daftari, Ava Dash, Christine Devine & Sean McNabb, Cairo Dwek, Peter Facinelli, Frances Fisher, Elizabeth Gillies, Camille Grammer, Mason Grammer, Bryan Greenberg, Anne Heche, Renee Herbert, Jessica Holmes, Randy Jackson, Victoria Justice, Chandler Kinney, Avril Lavigne, Natalie Alyn Lind, Elena Matei, AnnaLynne McCord, Maureen McCormick, Steven McQueen, Aly Michalka, Ruby Modine, Kechi Okwuchi, Jack Osbourne, Kelly Osbourne, Lauren & Aaron Paul, Nile Rodgers, Olivia Sanabia, Paris Sanders, Gleb Savchenko, Johnathon Schaech, Serayah, Pepi Sonuga, Alyson Stoner, Nala Wayans, Vanna White, Sammy Wilk, Rumer Willis, Dave Winfield, Natalie Zea, Hannah Zeile, and many more.
Host Scott Rogowsky (HQ Trivia) welcomed guests to the event and introduced the Fall 2018 runway show from Hollywood-favorite fashion brand alice + olivia by Stacey Bendet. The looks were showcased by a variety of models and actors, including Victoria Justice, Serayah, Francesa Capaldi, and Ajiona Alexus. Race to Erase MS founder Nancy Davis took the stage next, thanking guests for being in the room to celebrate the momentous 25th Anniversary Gala. She shared a special video highlighting the incredible accomplishments of the organization over the past quarter century, including raising over $47 million for the Center Without Walls program.
Peter Facinelli introduced the first performer of the evening, Grammy Award-nominated artist Elle King, who had the crowd on their feet with her hit song "Ex's & Oh's" and a cover of Tom Petty's "American Girl."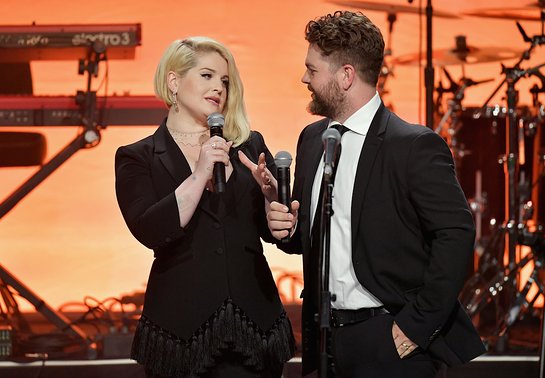 Brother and sister duo Kelly and Jack Osbourne, who himself was diagnosed with MS in 2012, announced the beginning of the evening's fast-paced auction, which featured one-of-a-kind opportunities and collector's items including a skip trip at The Little Nell in Aspen Colorado, a trip to New York Fashion Week with the alice + olivia team, an irresistible teacup puppy, dinner with the Osbourne family, and a Bahamas vacation aboard an Illusions yacht. The big item of the night was a Ferrari Portofino, one of the first of its kind to reach Los Angeles, which went for an incredible $250,000.
The next performer of the evening, Siedah Garrett, was introduced by actress Anne Heche. Garrett sang her single "Carry On," which she wrote after meeting Nancy Davis last year and being inspired to do what she could to help Davis' cause. She also sang the song she co-wrote for Michael Jackson, "Man in the Mirror," and had the audience singing and dancing along.
Randy Jackson introduced the night's headliner, music superstar Flo Rida, who brought down the house with a seven-song set that included hits "Right Round," "In The Ayer," "My House," and "Wild Ones."
In what has become a Race to Erase MS tradition over the past 25 years, an uplifting rendition of "Lean On Me," was performed as the finale of the evening, led by Randy Jackson, who was joined on stage by Nancy Davis, Lance Bass, Siedah Garrett, La Toya Jackson, Kechi Okwuchi, A.R.T., Ajiona Alexus, and more.
The Race to Erase MS Gala was generously sponsored by ALEX AND ANI, Ferrari Beverly Hils, alice + olivia by Stacey Bendet, Associated Television International, and The Beverly Hilton, with support from Evine, Mark's Garden, Carbonadi, Neo Water, and Bodvar House of Rosés.
Race to Erase MS was founded in 1993 by Nancy Davis and is dedicated to the treatment and ultimate cure of Multiple Sclerosis. All funds raised by the organization, through its iconic galas and year-round initiatives, support the "Center Without Walls" program, a unique collaboration of the world's leading MS research scientists currently representing Harvard, Yale, Cedars Sinai, University of Southern California, Oregon Health Science University, UC San Francisco and Johns Hopkins.
Davis also created the annual "Orange You Happy to Erase MS" campaign, which takes place for the entire month of May (MS Awareness Month) and adds yet another branch of fundraising for MS research. Throughout the month, a variety of orange products, many of which are specially created for this initiative, are sold to benefit the cause and elevate public awareness about MS. Orange T-shirts with symbolic messaging are created annually and in recent years, modeled by longtime supporters Sharon and Kelly Osbourne. For the 2018 campaign, they will be joined by Jack Osbourne, an MS survivor himself, and his two young daughters! Among the partners is ALEX AND ANI, a company that has been a loyal partner to Race to Erase MS since 2012. They created a unique Cupcake Charm Bangle and donated twenty percent of its proceeds to Race to Erase MS. This effort alone has raised over $1 million for multiple sclerosis research. Additional partners of the 2018 Race to Erase MS Gala and "Orange You Happy to Erase MS" campaign include Evine and Right Bank Shoe Co.