On May 6, 2014, more than 625 tri-state area business, healthcare and community leaders attended the 12th Annual Multiple Myeloma Research Foundation (MMRF) Laugh for Life: New York and raised $700,000 to benefit innovative MMRF approaches to extend patients' lives and accelerate new treatments to lead to a cure for multiple myeloma, a fatal blood cancer.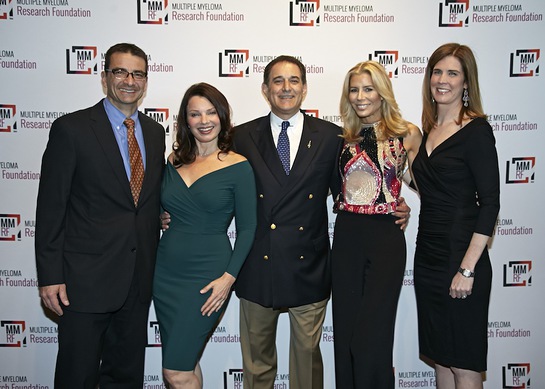 "The MMRF Laugh for Life event provides us the opportunity to honor all who are united in our mission to cure myeloma, but especially the courage of patients, their families and friends," said Walter M. Capone, President of the MMRF. "Thanks to those who inspire and support events like 'Laugh,' we are able to accelerate new and even more effective therapies for patients and advance cutting-edge research through our partnerships with the best scientists, researchers and clinicians in institutions and companies worldwide."
The MMRF was proud to honor Fran Drescher, actress, comedian, producer and President and Visionary of Cancer Schmancer Movement, with the Carol Goldschein Spirit of Hope Award presented by Celgene Corporation. This award is presented annually to a patient, caregiver or individual who exemplifies the true spirit of hope – one who generously advocates for the benefit of others, works tirelessly to help cancer patients, and inspires hope through their perseverance. Drescher's cousin Aviva Drescher, TV personality, author and philanthropist, accepted the award on her behalf. Susie Essman, stand-up comedian, actress, writer, television producer, and voice artist, served as headliner for the comedy event. Michael Reinert, Partner at Fox Rothschild LLP and a member of the MMRF Board of Directors, served as the evening's Master of Ceremonies.
"It's a huge privilege to be honored by the MMRF, an organization that has had an amazing impact in advancing the field of myeloma research," said Drescher. "No organization is doing more to shape the future of cancer research and directly benefiting the lives of so many patients."
The MMRF is a leading cancer research foundation that is developing new models and innovative means for accelerating the next generation of myeloma treatments as quickly as possible. The organization is currently spearheading the world's first and only open access data platform in multiple myeloma, which will empower patients with information to make decisions about their individual medical choices and enable researchers and others to make faster treatment discoveries for this incurable blood cancer.
"The MMRF is known for bringing great researchers, scientists and the multiple myeloma community together for a common cause, developing a plan to achieve that cause, and staying with it until the goal is achieved," said Joel Beetsch, Vice President of Global Patient Advocacy at Celgene Corporation. "Celgene is proud to partner with the MMRF on behalf of the many, many patients and families it serves."
Upcoming MMRF events in the tri-state area include the MMRF Race for Research: Tri-State 5K Walk/Run on June 8, 2014 in New Canaan, CT and the MMRF Fall Gala on November 8, 2014 in Greenwich, CT. For more information on MMRF events, please visit www.themmrf.org/events.