On May 17 in Miami, more than 550 guests celebrated the progress of St. Jude Children's Research Hospital at the 12th annual FedEx/St. Jude Angels and Stars Gala, an event co–founded by Daisy Fuentes.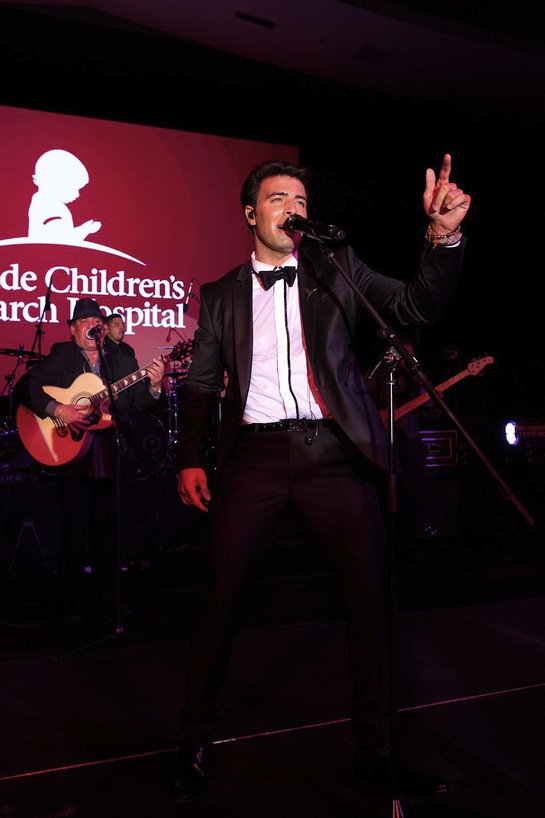 St. Jude Children's Research Hospital, which is leading the way the world understands, treats and defeats childhood cancer and other deadly diseases, recognized South Florida Chef Adrianne Calvo with the FedEx/St. Jude Angels & Stars Lifetime Dedication Award presented by The Mosteiro Family Foundation. For the past five years, the Cuban–American author, entrepreneur, television personality and Miami–based chef has prepared traditional Cuban meals for patient families who are away from home during the holiday season.
"It is touching to be recognized by an organization with a global mission that treats children battling cancer and other deadly diseases from all 50 states and around the world," said Calvo. "St. Jude Children's Research Hospital is truly a hospital without walls, freely sharing its research with doctors and scientists everywhere to improve diagnoses and treatments and save children all across the globe."
During the gala, guests enjoyed fine dining, a silent auction and live performances by GRAMMY Award winning artist Willy Chirino and singer/songwriter Jencarlos Canela.
Among the noted celebrity award presenters were television and radio personalities Pamela Silva Conde, Ana Maria Canseco, Raul Gonzalez, Jon Secada, Charytin Goyco, and more. Also in attendance at the star–studded event, which celebrates diversity, were well–known Latin celebrities including: Rashel Diaz, Mariela Encarnacion, Sissi Fleitas, Candela Ferro, Khotan Fernández, Claudia Molina, Maripily Rivera, Karent Sierra, Erik Valdez, Coby Ryan McLaughlin, James Tahhan, Gabriel Valenzuela, Jason Canela, Liz Vega, Alina Mayo Azze, David Chocarro, Guillermo Benitez, among others.
"The continued support of the Hispanic community and this amazing group of celebrity friends and faithful supporters during the past 12 years is inspiring," said Richard C. Shadyac Jr., CEO of ALSAC/St. Jude Children's Research Hospital. "It is thanks to friends and partners like these that St. Jude Children's Research Hospital is able to freely share the breakthroughs we make with doctors in Latin America and around the world so that we can find cures save children fighting cancer and other deadly diseases."
This year's gala sponsors included: FedEx Express, The Gutierrez Family, The Mosteiro Family Foundation, Raul Gonzalez, Carnival, Visa, Nuage Designs, Yokota Foundation, Univision, Venezuela al Día, International Dermatology, Hola America, Fortune Realty, YEZZ, British Telecom, Wellmax Medical Centers, Ernst & Young, Café Domino, American Tower Corporation, Leon Medical Centers, DDB Latina, Westin Fort Lauderdale Hotels, Byblos Group, Andreas and Kalkidan Kaiafas, FPL, OnmiComMediaGroup, Ketel One Vodka, Nassab A. Ahmadieh Graphic Design & Photography, Ocean Drive Magazine, Selecta Magazine, Amor 107.5 FM, Mix 98.3 FM, Radio Mambí 710 AM, Univision America 1140 AM, and The Dream Team Agency.