The Safeway Foundation and Stand Up To Cancer (SU2C), a program of the Entertainment Industry Foundation (EIF), have collaborated again to re-launch their public service campaign featuring actress and SU2C Celebrity Ambassador Marcia Cross, which will debut in June.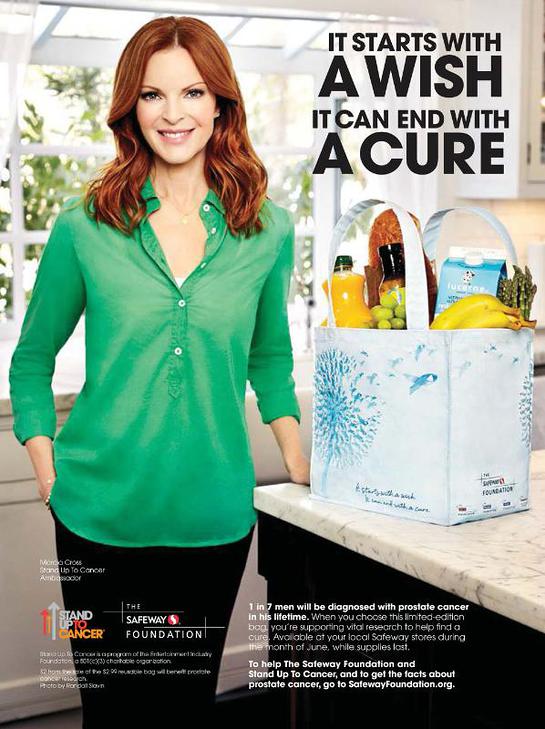 The print, radio and digital public service announcement (PSA) is designed to raise awareness for the fight against prostate cancer – a disease that over 2 million men are living with in the United States alone. Prostate cancer is the second-leading cause of cancer death for men in the United States, and one in seven men will be diagnosed with prostate cancer in their lifetime.
The public service campaign coincides with Safeway's annual in-store Prostate Cancer Awareness fundraiser, providing customers with multiple opportunities to donate at more than 1,300 Safeway stores across the U.S. The public service campaign will run through June, the month in which Father's Day is celebrated.
Stand Up To Cancer and The Safeway Foundation are encouraging everyone, especially those with loved-ones affected by the disease, to show their support for the cause with a limited-edition, reusable shopping bag with the words, "It starts with a wish; it can end with a cure." The bag will be available for purchase at all Safeway banner stores, including Vons, Pavilions, Tom Thumb, Randalls, and Carrs stores, as well as online at safewayfoundation.org.
Additionally, Safeway shoppers will have a chance to make a separate donation at check-out. Proceeds will support prostate cancer research, including that being done by the Prostate Cancer Foundation, the Stand Up To Cancer prostate cancer Dream Teams and other research teams.
Emmy Award and Golden Globe nominee Marcia Cross is best known for her roles on the award-winning series Desperate Housewives and the original Melrose Place.
"This is a cause close to my heart and one that I enthusiastically support," said Cross. "Together with Stand Up To Cancer and The Safeway Foundation, I hope to not only create awareness for a disease that affects too many of our husbands, sons, fathers and brothers — but support crucial cancer research that can save lives."
"We are proud to welcome back Marcia Cross and continue our collaboration with our friends at Stand Up To Cancer," said Larree Renda, Safeway Executive Vice President and Chair of The Safeway Foundation. "By featuring this campaign once again, we need to continue elevating cancer research and awareness and raise funds that will make necessary breakthroughs in patient care."
"We're thrilled to have an Ambassador like Marcia Cross shining a light on the fight against prostate cancer," said Lisa Paulsen, co-founder of Stand Up To Cancer and CEO of the Entertainment Industry Foundation (EIF) "In collaborating with The Safeway Foundation, we have been able to raise funds to get new and effective therapies to patients quicker."
To date, Safeway and The Safeway Foundation have raised over $87 million for prostate cancer research. These donations, provided by Safeway's generous customers, have helped fund 1,600 prostate cancer research projects providing hope for treatment and cures.
For more information on the campaign, visit safewayfoundation.org or standup2cancer.org.